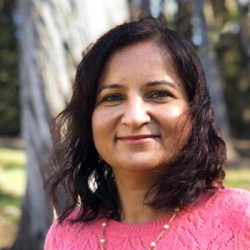 Anjali Billa
( She/Her/Hers )
Associate Vice President of University Development
College of Science and Engineering
Phone: (415) 405-3625
Email: anjalibilla@sfsu.edu
Anjali Billa joined SF State in 2020, after three years as director of development for the West Coast region of Jumpstart, the nationally recognized education organization working to narrow the kindergarten readiness gap by training college students to serve preschool-age children in underserved communities. While at Jumpstart, Anjali led and mentored a high-functioning team of four development professionals and was responsible for fundraising for the West Coast. She partnered with advisory boards and local community organizations to build and grow Jumpstart's support and brand.
Previously, Anjali was development director at the YMCA of San Francisco, where she achieved significant year-on-year growth in funds raised and served on the Development, Capital, and Governance committees. Her prior experience was a 10-year stint at Citibank NA, India, where she served in roles from the product manager for consumer loans to assistant VP, credit policy.
Born in India, the pursuit of education brought Anjali and her family to the United States in 2002. In the U.S., she immediately looked for opportunities to volunteer in her new community. Volunteering gave her a window into the nonprofit world as a place where she could bring her financial management and relationship-building skills for the greater good.
Anjali is a CFRE (Certified Fundraising Executive) and earned an MBA in Finance from Delhi University and a B.A. in Economics from Jodhpur University, where she graduated with honors.