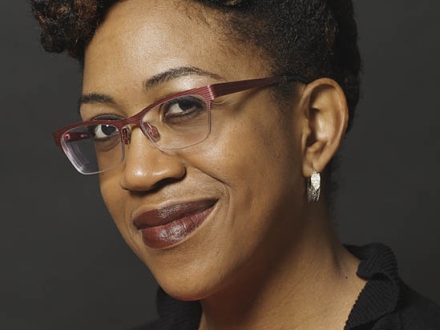 Dean Ifeoma Kiddoe Nwankwo: Connection and Inclusivity at the CLCA
Dean Nwankwo envisions an education that marries each student's personal experiences and knowledge with academic learning, creating a collaborative environment that is more of a makerspace than a one-way imparting of information.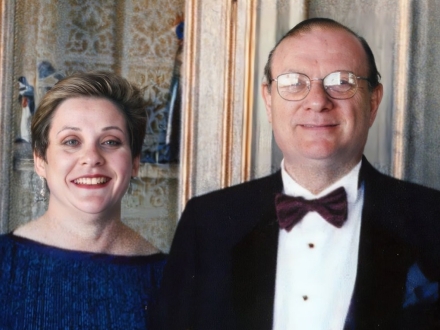 Alumni Donor Jerry Rosenberg's Iconoclastic Philanthropy
Jerry Rosenberg's unique approach towards funding a scholarship for students in the College of Liberal & Creative Arts has been phenomenally successful.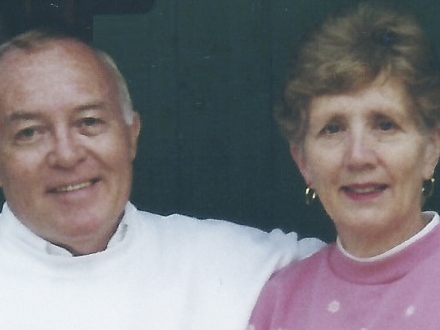 Alumna's Husband Bequeaths $1M to History Department
In honor of his wife, Joyce, Dr. William Briggs donated funds towards scholarships for students in the history department intending to become teachers.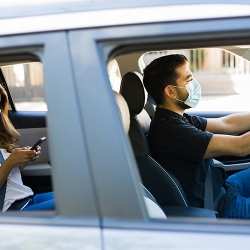 Race and gender are major factors why taxi and ride-hail drivers are 'Spent Behind the Wheel'
Ride-hail drivers face many of the same problems that have existed since the invention of the automobile, according to a new book by two Women and Gender Studies professors from San Francisco State University. While drivers' struggles to make a living wage have generated much fanfare and legislation in the last decade, age-old stereotypes also dominate the occupation of those who drive passengers from one place to another.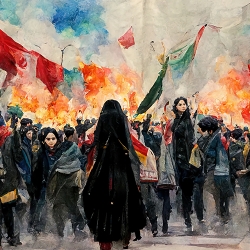 Director of SF State's Center for Iranian Diaspora Studies Responds to Iranian Crisis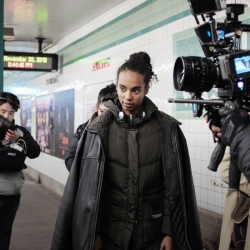 Alumna & Scholarship Recipient Anaiis Cisco: Shattering Disparity in Film
Anaiis makes films that "explore the emotional journey of Black characters in nuanced story worlds, highlighting the experiences of underrepresented racial, ethnic, queer, and gendered identities."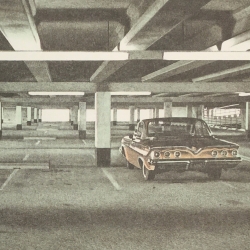 University Receives Donation of Robert Bechtle Artwork
The Robert Bechtle and Whitney Chadwick Trust has donated five prints done by world-renown artist Robert Bechtle, who taught in the art department for thirty years.
Scholarship Student Creates Mural Honoring Essential Workers
Emma Wakefield endured sweltering heat for a week in May to paint the Essential Workers Appreciation Mural, a project of the Lake County Arts Council. Days later, she graduated from San Francisco State with a bachelor's degree in Art and a minor in Education.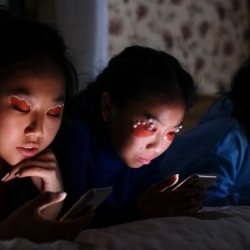 Assistant Professor Omar Sosa-Tzec receives Marcus Early Career Research Award
This award releases faculty from instructional and service responsibilities for one semester in order to support their research. Sosa-Tzec's project is concerned with designing for digital wellbeing—the notion of having a balanced relationship with everyday technology.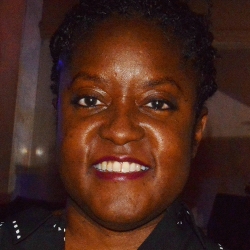 Writing into the unknown: a conversation with Marcus Endowed Chair Tonya M. Foster
Foster joined San Francisco State last fall as one of four Marcus Endowed Chairs, tenure-track positions established with a $25 million donation from alumni George and Judy Marcus. Now, SF State students work closely with the New Orleans-raised poet known for electric lyricism and expansive interpretations of language.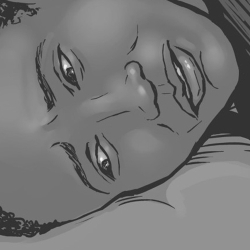 "The Montford Point Marine Project" will foreground the meaning and lessons the Black veterans themselves draw from their service and experiences
San Francisco State University Professor Trevor Getz will again bring an overlooked piece of history to light through a nonfiction comic book. Created with History undergraduate Robert Willis, "The Montford Point Marine Project" will tell the stories of the first Black U.S. Marines, who served in World War II. The story is based on new oral histories of their experiences. It will be published by Oxford University Press in 2024.
Artel Great Views Black Cinema from Multiple Angles
Assistant Professor Great joined San Francisco State in 2020 as the first George and Judy Marcus Endowed Chair in African American Cinema Studies, a position created as part of a $25 million donation from alumni George and Judy Marcus.
Three Professors Win Marcus Transformative Research Award for 2021-22
Three College of Liberal & Creative Arts faculty members are this year's recipients of the Marcus Transformative Research Award and will support research in topics spanning the decolonizing of communication research, empowering history collection in Ghana and recovering the works of a 19th century composer.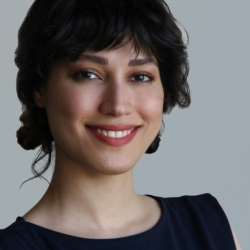 Scholarship Student's Furniture Concept Lands Industrial Design Award
An award-winning San Francisco State University thesis offers a playful, space-efficient piece of furniture that helps keep young children engaged at home without taking a lot of space or making a mess. Mina Kasirifar has developed FLIP, a chair that enhances children's sensory development with dozens of configurations. Her product recently won the West District Graduate Student Merit Award from the Industrial Designers Society of America.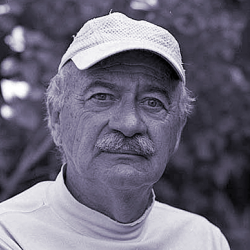 The Arkin Fund for Distinguished Students
Professor Stephen Arkin was a beloved professor in San Francisco State University's English Department for more than 40 years. In memory of his passing on May 6th, 2020, his family, friends and colleagues established the Arkin Fund for Distinguished Students.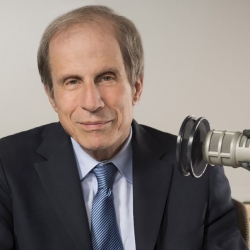 The Michael Krasny Awards in English Literature
The Krasny awards were established in 2018 to recognize and honor the literary legacy and professional influence of Professor Michael Krasny. Professor Krasny, a widely published critic, and scholar has been a member of San Francisco State University's Department of English since 1970. He has been the host since 1993 of the award-winning live radio program Forum on KQED in San Francisco.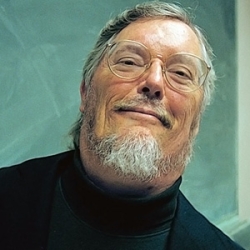 Longmore Institute Receives $100K
A $100,000 donation from Anthem Blue Cross to The Longmore Institute on Disability at San Francisco State University has established a new scholarship fund to support education-related expenses for students with disabilities who have committed to future healthcare work, whether as direct healthcare practitioners or working in the field of health justice. This initiative is part of Anthem's broader commitment to address California's healthcare worker shortage and to close the gap in health disparities across the state.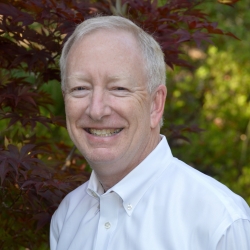 Professor Marc Dollinger Donates to the HOPE Fund
"As an educator, I'm student-centered, and to be at SF State is to have social justice at the heart of our mission. We've got one of the most diverse student bodies of any university in the country. COVID-19 and the national reckoning on race intersected with the HOPE Fund," he said. "I like that I'm empowering students to achieve their goals, so they can pay their loan forward for the next generation of students." – Marc Dollinger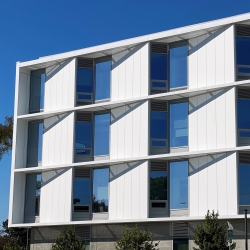 Marcus Hall Grand Opening
Marcus Hall will prepare future generations to lead and evolve the media landscape. Designed by MCA as a flexible learning and production environment which can be adapted to changing technologies, the four-story facility asserts the presence of media arts at the University.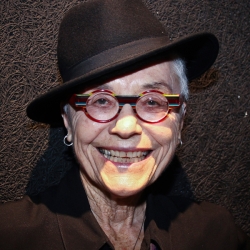 Queer Cinema Project (QCP) receives $77,000
QCP recently received a $27,000 donation from the estate of alumni and noted filmmaker Barbara Hammer and executor Florrie Burke, an international human-rights advocate and Hammer's spouse of 31 years. The gift is a match to a 2018 challenge grant from the Jonathan Logan Family Foundation, which made an additional $25,000 grant to QCP in 2018.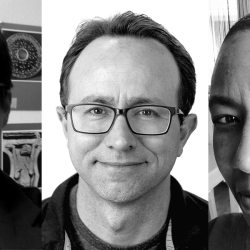 Winners of Marcus Transformative Research Award
The College of Liberal & Creative Arts' Marcus Transformative Research Awards will support three professors' research in topics spanning a graphic novel, structural racism, and disability. The award is made possible by the George and Judy Marcus Funds for Excellence in the Liberal Arts, which was established in 2018 with a $25-million gift to SF State. Jewish Studies Professor Kitty Millet was the inaugural winner last year.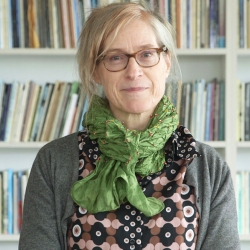 The Bernice Ruben Arnold Scholarship
Thanks to an anonymous gift, the newly created $150,000 Bernice Ruben Arnold Scholarship Fund will award two $5,000 scholarships a year with preference to first-generation students in the Creative Writing Department's MFA program, through the academic year 2025/26.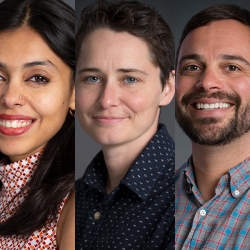 Marcus Early Career Research Award Helps Faculty Reach Finish Line
In its second year, the College of Liberal & Creative Arts' Marcus Early Career Research Award will help five faculty members complete their book and film projects that explore social justice issues in the U.S. and abroad. Read about the winners and their projects.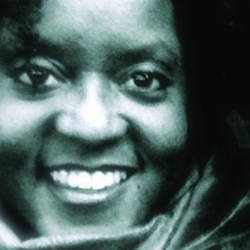 Novelist Joseph Cassara and Poet Tonya M. Foster Join Faculty
San Francisco State University has named Joseph Cassara and Tonya M. Foster the George and Judy Marcus Endowed Chairs in the Creative Writing department. Cassara, who most recently taught in the department of English at Fresno State University, joined San Francisco State as an assistant professor of creative writing. Foster most recently taught writing and literature at the California College of the Arts in Oakland. She is currently an assistant professor of poetry at SF State.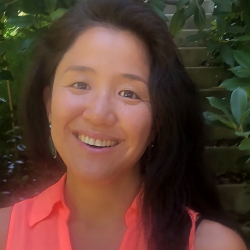 Dilena Takeyama Scholarship Recipient Recognized by CSU
The California State University (CSU) recently recognized Madenokoji for rising above her traumatic experiences while achieving academic excellence and staying focused on social justice. She's one of 23 CSU students to receive the CSU Trustee Award for Outstanding Achievement, the highest academic honor given annually by the CSU to students from each campus.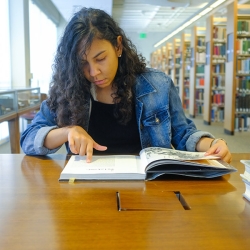 Marcus Scholar's Research Addresses Pressing Issues
A new donor-funded College of Liberal & Creative Arts research program provided opportunities for 15 undergraduates this year to dig deep into the world's most debated, pressing issues: politics, race, mental health, veterans, climate change, bullying, sexuality and more. Working closely with faculty mentors throughout the entire year, students sharpened investigative skills and creative talents and helped build understanding on a range of issues.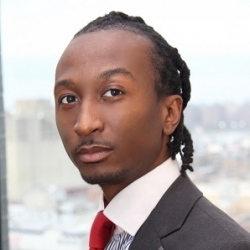 Dr. Artel Great Writes About Black Cinema for The New Republic
Dr. Artel Great is the George & Judy Marcus Endowed Chair in African American Cinema Studies at San Francisco State University. His scholarly work delves into the intellectual history, critical discourse, and aesthetics of Black cinema and visual culture. His piece in The New Republic highlights the visionary efforts and extraordinary diversity of Black cinema long before the rise of Hollywood.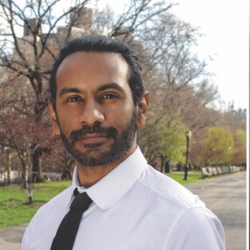 School of Cinema announces new George and Judy Marcus Endowed Chairs
San Francisco State University has named Artel Great and Mayuran Tiruchelvam the George and Judy Marcus Endowed Chairs in the School of Cinema. They will join the University as assistant professors in cinema in the fall of 2020, bringing with them extensive backgrounds in both filmmaking and cinema scholarship.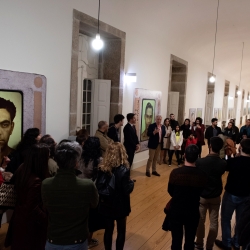 Professor Bailey Destroys Archival Research Images in the Name of Art, Ethics
Anthropology Professor Doug Bailey destroyed more than 1,200 transparencies from SF State archives, and he is proud of it. He culled 35-millimeter images from decades-old research projects that are now considered unethical — studies of ethnicity, sexuality, animal dissection and human reproduction — and soaked them in diluted sodium oxychloride.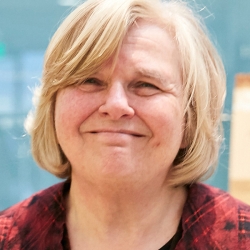 Professor Millet Wins Marcus Transformative Research Award for Book on Kabbalah Literature
Millet joined SF State's Department of Jewish Studies in 2004. Previously, she taught in the University's Comparative and World Literatures Department. The Marcus Transformative Research Award is made possible by the George and Judy Marcus Funds for Excellence in the Liberal Arts, established with a $25-million gift to SF State in 2018. The award helps tenured faculty pursue transformational research and professional development.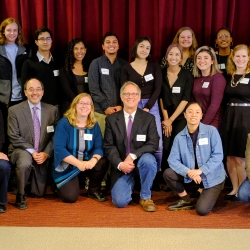 The George and Judy Marcus Funds for Excellence in the Liberal Arts
In November, 2018 George Marcus (B.A., '65) and Judy Otten Marcus (B.A., '62) became the University's largest donors and lead supporters of the BOLD Thinking campaign. The Marcuses funded and established the George and Judy Marcus Funds for Excellence in the Liberal Arts, a comprehensive gift to the College of Liberal and Creative Arts that includes four new endowed faculty chairs, support for student and faculty research, and program and facilities upgrades.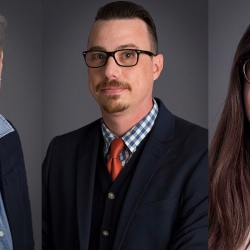 Three Faculty Members Win Marcus Early Career Research Award for 2020-2021
The College of Liberal & Creative Arts' Marcus Early Career Research Award will help three faculty members complete research and creative work encompassing art, law and cinema studies.
The award, supported by the George and Judy Marcus Funds for Excellence in the Liberal Arts, provides a one-semester leave during the 2020 – 2021 academic year. Probationary tenure-track faculty in their third, fourth or fifth year are eligible.
Artist Explores Spiritual Themes in Recology Residency
Beck, who studied fine arts at San Francisco State University and graduated in December, was one of nine artists selected for Recology's 2019 Artist in Residence (AIR) Program. Once a year, the program selects six professional artists and three art students from a pool of applicants. The artists receive a small stipend, studio space and access to materials — junk — that they're expected to incorporate into their art and then exhibit in a final public showcase.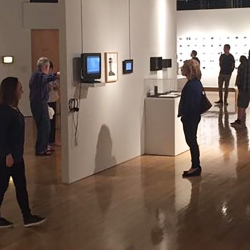 Transformative Bequest to the School of Art
Richard J. Barry passed away in Alexandria, Virginia, on September 14, 2017, at the age of 82. He left the bulk of his estate to the Art Department, where his late wife Michie Barry earned her B.A. in Art in 1973. A small portion of the gift will be allocated for current-use while a large share will be placed in a quasi-endowment, with the School of Art projected to receive a significant annual payout in perpetuity.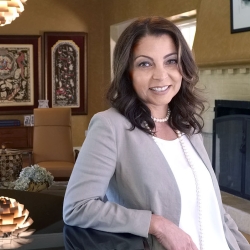 Neda Nobari Donates $1 Million to the Center for Iranian Diaspora Studies
San Francisco State University announced that the Center for Iranian Diaspora Studies received an additional $1 million from alumna and Iranian American philanthropist Neda Nobari (B.S., '84), building upon her generous gift of $5 million from June 2016 that established the first-of-its-kind center.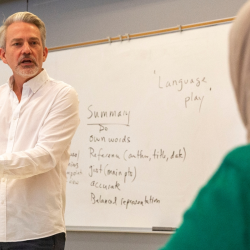 SF State Named One of the Top Five Feeder Schools for Prestigious Government Fellowship
San Francisco State University's Teaching English to Speakers of Other Languages (TESOL) program, one of the first of its kind in the nation, is also one of the top programs producing U.S. State Department English Language Fellows (ELF). The ELF program turns 50 this year and as part of the milestone they're recognizing five universities for continually producing fellows, colleges that will be given an award at a Nov. 5 birthday celebration in Washington, D.C.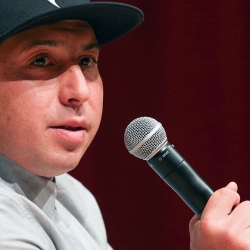 Marcus Funds Support An Evening With Tommy Orange
Tommy Orange, author of the acclaimed novel "There There," spoke with San Francisco State University Assistant Professor of Creative Writing Carolina De Robertis in Knuth Hall Oct. 15. Orange was named 2019 Gina Berriault Award winner, a San Francisco State honor. The event was sponsored by the George and Judy Marcus Funds for Excellence in the Liberal Arts.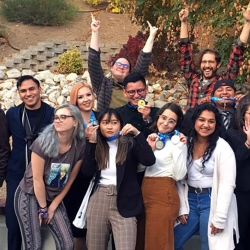 SF State's Forensics Debate Team Scores Major Wins
Forensics, San Francisco State University's speech and debate team, scored major wins in this year's fall season of competition. The team, part of the Department of Communication Studies in the College of Liberal & Creative Arts, placed first in four events at the 11th Annual Golden Gate Season Opener debate match. The match is the largest intercollegiate forensics tournament in the Bay Area, and was hosted at SF State. In addition to the four first place wins, SF State students took home one 2nd place win and three 3rd place wins.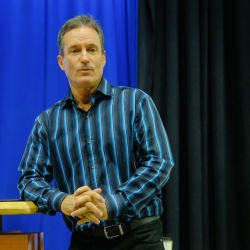 KPIX Anchor Dennis O'Donnell Returns to SF State to Teach Sports Reporting
This fall, Dennis O'Donnell appeared on air on San Francisco State University's student radio station for the first time in decades. The broadcast journalist and San Francisco State Alumni Hall of Famer, a fixture on the Bay Area airwaves for four decades, sat behind a KSFS microphone alongside students as they all gave their takes on the day's top sports stories.
Global Museum Opens Virtual Climate Stories Show
Climate Stories, originally a live exhibit in the museum's galleries on campus, explores the impacts of climate change on indigenous communities across the globe, and highlights actions which combat climate change that are being taken now, including on the SF State campus. Divided into four themes (connections to the ocean, relationships with wildlife, the power of plants, and adapting tradition), this exhibition reveals ways that communities are responding and adapting to changes in both culture and environment.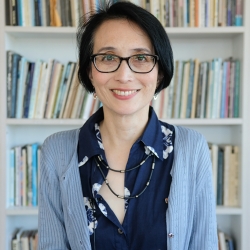 Marcus Funds Awardee Wins American Book Award
Useful Phrases for Immigrants is a collection of short stories showing how Chinese families in China and America navigate changing economic and cultural circumstances by creating an environment for empathy instead of fear. It also won the Bakwin Award for Writing by a Woman.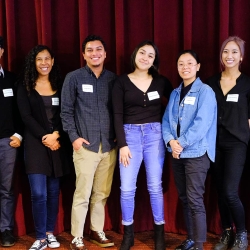 George and Judy Marcus Funds for Excellence in the Liberal Arts
A panel of faculty experts chose Maga and nine other fellows for the inaugural awards, with projects including a documentary on transgender representation in film, a photography exhibit about climate change and an ethnographic study of the veteran experience at SF State. Students will work closely with faculty mentors over the coming academic year to complete their projects and then present them in some fashion at the end of the Spring semester.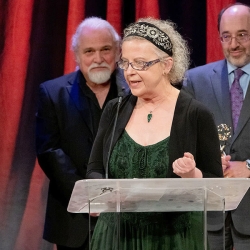 BECA Wins Prestigious Award at 2019 Northern California Emmys
The Broadcast and Electronic Communication Arts (BECA) Department received the Governors' Award at the 48th annual Northern California Emmy Awards, held June 8 in San Francisco. The award is the highest honor a chapter of the National Academy of Television Arts and Sciences (NATAS) can give.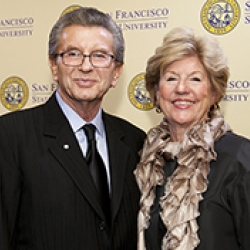 George and Judy Marcus Donate Over $28 Million to SF State
On November 26th, 2018, San Francisco State University President Leslie Wong announced a $25 million gift from alumni George (B.A., '65) and Judy Otten Marcus (B.A., '62) as part of the University's BOLD Thinking campaign. The newly established George and Judy Marcus Funds for Excellence in the Liberal Arts, in combination with the Marcus' recent $1.8 million donation to SF State Athletics Scholarships, comprise the largest gift in the University's history.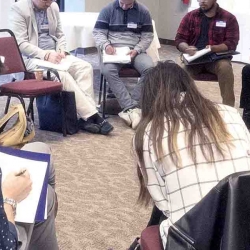 Linda & Frank Kurz: Inspiring Understanding Through Sponsoring Conflict Management at SF State
In 2017 Frank and Linda attended a large SF State event called "Collaboration Through Differences: Campus Dialogue". The event was organized by Professor Victoria Chen of the Communication Studies Department, in partnership with the 80 students enrolled in her class "Dialogue Across Difference". Moved by the positive approach towards managing conflict that they saw in this event, they began talking with Professor Chen about creating smaller intensive workshops for students on campus.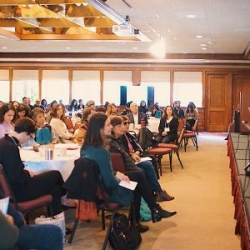 'Forty Years and More': Landmark Conference at SF State Explores Iranian Diaspora
Forty Years and More: International Conference on Iranian Diaspora Studies, hosted by the Center for Iranian Diaspora Studies from March 28 to March 30, marked the 40th anniversary of the Iranian revolution. Presentations and panel discussions investigated the ways that Iranians as exiles, immigrants and as second- and -third-generation "hyphenated" citizens of their respective nations have met with both challenges and opportunities.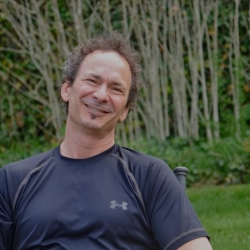 Forrest Gander (M.A., 1981) Wins Pulitzer Prize for Poetry
Alumnus Forrest Gander (M.A., 1981) has won the ($15,000) Pulitzer Prize for Poetry for a distinguished volume of original verse by an American author— "Be With" published by New Directions.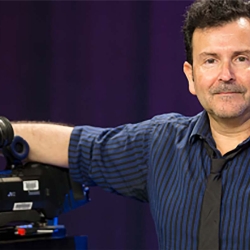 Scholarship recipient Len Haynes' song makes Oceans 8 soundtrack
A Southern California native in his early 50s, Haynes has played in different bands over the years and released several records between the 1990s and mid-2000s. He's also worked as a recording engineer and producer for a recording studio in Hollywood. Some of the noteworthy artists he's worked with include New Wave legend Gary Numan, DJ Me DJ You and Lydia Lunch. He's also performed with Nik Turner's Hawkwind and Can member Damo Suzuki.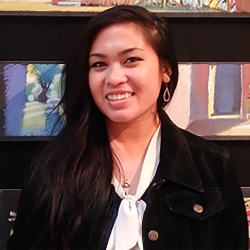 Scholarship Recipient Animation Artist Grace Villaroman Lands Pixar Internship
Grace Villaroman was born and raised in Anaheim, or as some like to call it, "Oh that place where Disneyland is?" She rarely goes to the legendary theme park, but she just started an internship at Disney's Pixar Animation Studios in the East Bay.
She is San Francisco State's first Pixar intern since Jonas Rivera (B.A., Cinema, '96), the studio's first-ever intern and now an Academy Award-winning producer (Inside/Out).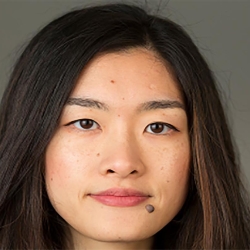 Student Seira Yasumatsu Wins Third Place in International Design Contest
Yasumatsu was honored April 17 for the portable workbench and rest device she designed for gardeners. Named Grow and Gather, it helps to facilitate community gardening for people of all ages and abilities. It takes the form of a movable cart that incorporates support for walking and sitting, storage for tools and a design that allows gardeners to configure the cart to their own needs.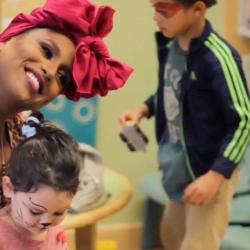 Matching grant from the Jonathan Logan Family Foundation will support LGBTQ film
San Francisco State University's Queer Cinema Project (QCP), a program that encourages the production, study and promotion of queer cinema, has received a generous $25,000 grant from the Jonathan Logan Family Foundation, a philanthropic organization that advances social justice through supporting works in journalism, the arts, the environment, documentary film and more.