Metro Academies Wins National Honor
SF State's Metro Academies, an innovative program that helps underrepresented students succeed in college, has earned national recognition for its success in retaining and graduating students. The California State University (CSU) recently awarded the program additional funding to scale up its efforts at SF State.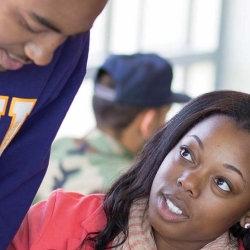 SF State Student Success Program Gets $3 Million Demonstration Award
The State of California has awarded $3 million in support to the Metro College Success Program, which helps underrepresented students at San Francisco State University and City College of San Francisco (CCSF) navigate their first two years of college. The funding, announced today, is part of $50 million allocated to state colleges and universities for innovative programs with a track record of boosting student success.