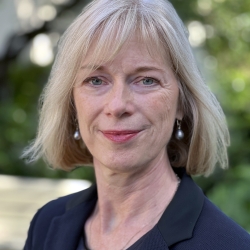 Marcelyn B. Potter, CFRE
Senior Director of Development
Lam Family College of Business
Phone: (415) 338-6185
Email: mbpotter@sfsu.edu
Marcy Potter is a trusted adviser specializing in crafting educational philanthropy strategies to empower individuals in creating a positive societal impact. Marcy currently holds the role of Senior Development Director for the College, overseeing comprehensive development strategy, donor engagement, and fundraising initiatives, both for annual and major gifts. She also manages the Dean's Business Advisory Council.
Formerly with UC San Diego and UCLA Regional Programs, Marcy led the Northern CA and Pacific Northwest regional campaigns for the $3B Campaign for UC San Diego and the $5.49B Centennial Campaign for UCLA. Marcy has a track record of achieving success by fostering collaboration among teams from various units to establish shared priorities and attain collective results.
Marcy also served as a Major Gift Officer for UC Berkeley's College of Letters & Science and began her career as a consultant for CCS Fundraising. She earned her B.A. in Marketing from Michigan State University and is a Certified Fund Raising Executive (CFRE).