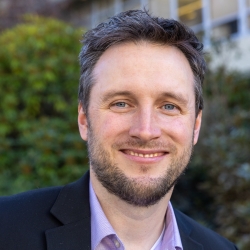 Stefan Amrine
( He/Him/His )
Senior Director of Corporate and Foundation Relations
Phone: (415) 338-7134
Email: samrine@sfsu.edu
Stefan Amrine joined SF State in 2022, after five years as Grant Writer and Director of Corporate and Foundation Relations at Holy Names University (HNU) in Oakland, CA. While at HNU, Stefan secured major corporate, foundation, and government support to advance the University's social justice mission and service to the Bay Area. 
Previously, Stefan served as Donor Relations Writer at Santa Clara University where he stewarded both individual and institutional funders through narrative reporting, customized videos, and storytelling events. In addition, he has served as a fundraising consultant to non-profits of all sizes. 
Stefan has been in the non-profit sector for nearly 20 years, focusing primarily on the education field. He has worked as a fundraiser, writer, researcher, and instructor. Stefan earned an M.A. in Education from the University of Michigan and a B.A. in Political Science from the University of Wisconsin - Madison.