Alumna and Former Staff Member Creates Fund to Support Lam Family College of Business Staff
By University Development
July 2021
When Armaan Moattari (MBA, '98) first visited San Francisco State University in 1996, she knew immediately that she wanted the University to be part of her future. "I really liked the mission of the University and the faculty at the College of Business," says Armaan who had recently moved to California from Ohio. "And I loved San Francisco!"
At the time, Armaan never would have guessed how deep her future relationship with the University would be. After her visit, she enrolled in the MBA program, and while she was a student, she was the president of the Graduate Business Association, student representative on the College's Dean search committee, and recipient of the distinguished MBA student award.
A few years after she graduated, having worked at the consulting firm Accenture, Armaan joined the staff of SF State and worked as the Assistant Director of Admissions of the Graduate Business Programs. After almost 18 years with the College of Business, Armaan retired from SF State last year. She contributes her longevity at SF State to the inspiration and energy she derived from working with students, and also from her connection with her colleagues, many of whom she remains in touch with.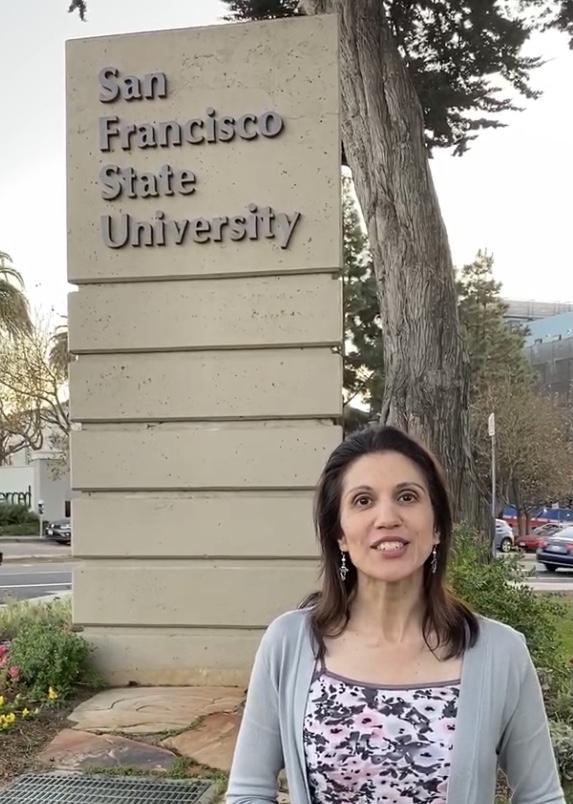 Armaan Moattari (MBA, '98)
Armaan, who came from a loving family which was deeply connected to their Iranian culture and community, sees community service as a priority. Immediately upon retirement, she started to look for ways to give back to the SF State community. Working with the Lam Family College of Business, she dedicated funds that she received for unused vacation days to establish The Armaan Moattari LFCoB Staff Fund, which provides funds for staff appreciation and professional development in the college. "The staff is the backbone of every college," says Armaan. "Without the staff, the student experience would not be the same. So that's what prompted me to designate the fund to the staff."
Armaan has also allocated a planned gift to The Armaan Moattari LFCoB Staff Fund in her will. "I hope that others can also give back in any small way, whether it's with their time or just being kind to one another!" says Armaan. "And if it's contributing financially, of course, that's great."
In addition to supporting SF State, Armaan is carrying on her parents' tradition of giving back through managing a school that her father established in his hometown in Iran and caring for her brother who has Autism. She is looking forward to new adventures and is starting to look into work that combines her love for Iranian culture and supporting people with Autism.
For more information, contact:
Anjali Billa ( She/Her/Hers )
(415) 405-3625