By Gail Mallimson, University Development
Many students at San Francisco State University are the first in their families to attend college, courageously working toward bachelor's degrees in the hopes of raising their earning potential. But today, it can take more than a degree to prepare for a successful career. Businesses need to be dynamic to meet the challenges of rapidly changing markets and are increasingly looking for employees that can demonstrate creativity, ingenuity, resourcefulness, perseverance, and the ability to work well with others. 
As an angel investor, serial entrepreneur, and co-founder and CEO of several innovative companies, Chris Larsen is acutely aware of the value these skills bring to finance and enterprise. He too was the first generation in his family to attend college. His father was an airline mechanic in San Jose, and Chris' initial impulse was to study aeronautics at San Jose State University. When he discovered a passion for business, Chris transferred to SF State, graduating in 1984 with a B.S. in accounting and business administration—majors which he chose because he saw them as practical.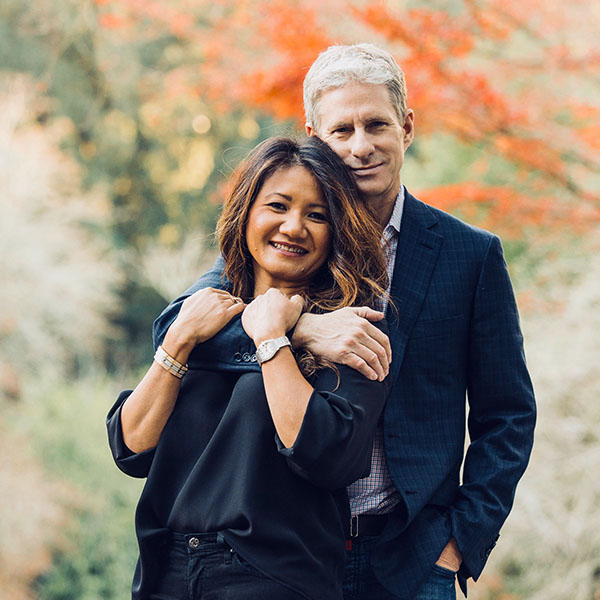 Lyna Lam and Chris Larsen
After graduating, Chris worked at Chevron as a financial auditor. While the job was a good one, it wasn't until later, when he enrolled at the Stanford Graduate School of Business, that he connected to his true calling as an entrepreneur. There he studied with Jim Collins, a renowned entrepreneurship expert who encouraged his students to strategically approach risk and "cut the lifeboats." This still resonates with Chris, who has built a career on boldly pursuing transformative business ideas. After graduating from Stanford in 1991, Chris co-founded E-Loan, where he focused on democratizing lending and finance, a theme that would reoccur throughout much of his career. Chris was also a key proponent of the "open-access to credit scores" movement while at E-Loan.
Chris' next endeavor was a company called Prosper, the first peer-to-peer lending marketplace in the United States, which he co-founded in 2005. Prosper was inspired by hui, a traditional Vietnamese form of group lending which Chris' wife Lyna Lam's family practiced in Asia and in the U.S. after they immigrated from Cambodia. A few months after leaving Prosper in 2012, Chris became a trailblazer in blockchain as the co-founder of Ripple, creating a global decentralized network that uses the digital asset XRP to facilitate payments across boundaries and financial systems.
In 2015, he and Doug Galen, an entrepreneur and lecturer at the Stanford Graduate School of Business co-founded Rippleworks, a nonprofit foundation that supports high-growth social ventures around the world. Doug and Chris' belief that entrepreneurs are everywhere, but the opportunities to realize their potential is not always evenly distributed, informs their work. It also inspired the gift to SF State's College of Business, which will provide opportunities to diverse students in learning business innovation, global enterprise, fintech, and entrepreneurship. 
A Transformative Gift to the University's College of Business
Chris and Lyna, whose two sisters and several other family members attended the University, have been stalwart supporters of the University since 2001. In April, they donated a historic $25 million gift to the College of Business, and they have donated more than $800,000 to scholarships, education, science, and business initiatives throughout the University. Their gifts include the establishment of the Chris Larsen Scholarship Fund in the Graduate College of Education and the support of initiatives in the Biology department in the College of Science and Engineering. 
At the recommendation of Chris, the Lam Family College of Business is named in honor of Lyna's family, particularly her father, Quang Lam, who led his family in their escape from war and genocide in Cambodia. After a few years in refugee camps in Thailand and the Philippines, the Lam family immigrated to the U.S. and settled in the Bay Area. Chris looks up to Quang Lam as someone who worked hard to give his family the American dream. He sees his father-in-law's ingenuity, grit, and determination as great examples of the attributes possessed by SF State students, thirty-seven percent of whom are the first in their families to attend college. 
Chris' philanthropy to SF State is rooted in the belief that the University's students benefit from their location in San Francisco, which is a high-profile hub for technology and finance. "SF State students have great potential because of their position. Most of the world is outside of this ecosystem, and they're really trying to catch up," says Chris. "Being here in San Francisco gives SF State's students amazing career opportunities. These funds are focused on guiding these students in becoming innovators, entrepreneurs, and leaders, enabling them to become changemakers in business and their communities," says Chris.
Chris was named Alumnus of the Year by SF State in 2004.
For more information, contact:
Marcelyn B. Potter, CFRE ( She/Her/Hers )
Senior Director of Development
Lam Family College of Business
(415) 338-6185