by Kyle Hoctor
While studying to get his degree in business marketing, San Francisco State alumnus Mike Fanelli was a dedicated member of the University's track team. In 1981, he distinguished himself by becoming the University's record-holder in the 10,000 meters. After leaving San Francisco State, he was inducted into the San Francisco State Athletics Hall of Fame in 2011, coached the USA National Track Team three times, and coached 14 U.S. Olympic Trials qualifiers. Mike says the impact San Francisco State had on him, both academically and athletically, was so great that he always dreamed of returning the favor.
Although he has a lifelong relationship with San Francisco State University, it was Mike's wife Renay who began his 14-year journey to fully realize the first Gator Athletics endowed scholarship. "It was a surprise 50th birthday gift from my wife. She knew how in love I was with San Francisco State and Gator Athletics. So, she set up this scholarship and has been my partner over the years in fundraising. It's so exciting to finally be at this stage where we're able to award our first scholarship in perpetuity."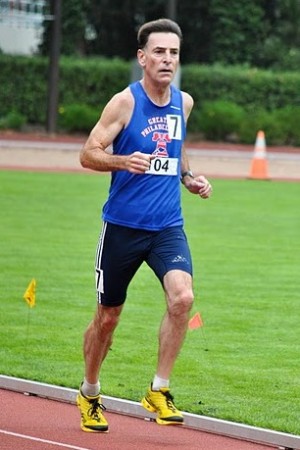 San Francisco State University alumnus and donor Mike Fanelli
The Mike Fanelli Track and Cross Country Men's Scholarship is awarded each year to a runner with financial needs who demonstrates leadership on the team. Mike's goal is to award the scholarship to a student who is not necessarily the fastest member of the team, but who stands out as a leader and actively inspires others to be the best they can be.
The first Mike Fanelli Scholarship was awarded to Gator long-distance runner and senior Jake Garrissere in 2019. Recruited to the team in high school by coach Tom Lyons, Jake chose to attend SF State over other offers because of the camaraderie that he observed when he visited the campus: "There was something about the team dynamics here at SF State. Everybody really got along and loved to be a part of something bigger than themselves, versus at other schools where it felt much more individualistic."
The track and field team does not explicitly select team captains, but over the years Jake has naturally become a leading figure and an inspiration to his teammates. "I kind of became that person that both the team and the coaching staff relied on," he explains. "That was very humbling. It helped me become more responsible, to say the least. It's a great feeling being someone that other people can rely on."
Jake, a history and education major, was especially grateful for receiving such a scholarship, as he was unemployed due to the Coronavirus pandemic at the time. "I felt really honored to be awarded this scholarship," says Jake. "I never really thought that this was something that I could do. I don't pretend to be the fastest guy out there. I think of this team as my family; they have been with me through some of my highest highs and some of my lowest lows, and I can always rely on them to have my back whenever I need them. I'm honored to be considered a leader of the team."
Mike is thrilled that the Mike Fanelli Scholarship has been awarded for the first time and looks forward to meeting Jake. He is happy to be following in the footsteps of recording star and former Gator Johnny Mathis ('55), who is also a major donor to the Athletics Department. While Mike was a student at the University, the spring track meet was officially named after Johnny Mathis in tribute to his financial support of the team, which Mike has remembered throughout the years. "The idea of paying it forward really meant a lot to me then and it means a lot to me now," says Mike. "So, Johnny Mathis is the inspiration behind this."
Jake shares Mike's enthusiasm for giving back and hopes to continue the generous legacy of those athletes before him. "Sports have done so much for me and I really want to give back and take my experience and help foster other upcoming athletes. We're all very proud to wear the Gator jersey when we go out to represent our school."
For more information, contact:
David Fierberg, MNA, CFRE ( He/Him/His )
Executive Director of Development
(415) 405-3966