Johnny Mathis — yes, the singer — was an S.F. high jump champion. Seventy years later, he's still giving back

by Peter Hartlaub of The San Francisco Chronicle
April 12, 2022

Long before singer Johnny Mathis recorded his first hit — before he became the "voice of Christmas" and sang for U.S. presidents and had 43 singles on the Billboard pop charts — the San Francisco resident was known for his ability to fly.

Standing just 5 feet 7, Mathis was one of the best high jumpers in the state in the 1950s. He set local high school records at Washington High, and as a San Francisco State University student leaped 6 feet 5½ inches at a 1955 conference meet in Reno, beating his 7-foot-tall rival — future NBA legend Bill Russell.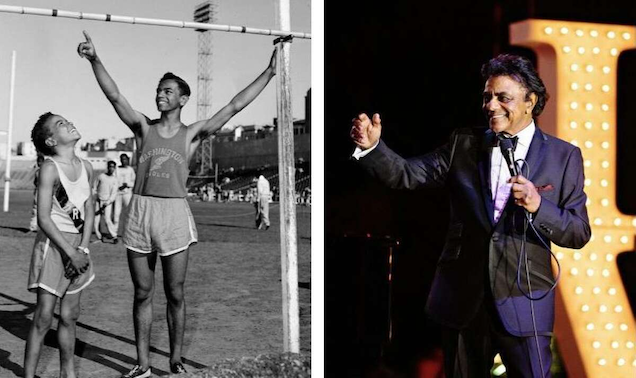 High jumping should have been a strange footnote in the career of Mathis, who at age 86 is back on the road, in his 66th year as a touring performer. [...] But his relationship with the sport never really ended. It turns out that the hometown boy who made it big has quietly been San Francisco State track and field's biggest supporter for more than four decades — his donations well into six figures.

"I come from a large family; we had no money. Anything we had was a gift to us," he says. "My voice teacher taught me free of charge. All of the things that I was able to do growing up in San Francisco that required money were given to me."

As he gets further away from his track-and-field years, Mathis says he values that time even more. He credits the habits he learned at the track and on the athletic field for his longevity as a performer.
For more information about donating to Gator Athletics, contact:
David Fierberg ( He/Him/His )
Executive Director of Development
(415) 338-1032