by University Development 
The Dutch mathematician Edsger W. Dijkstra once said, "There should be no such thing as boring mathematics." But unfortunately, in many classrooms, there is. San Francisco State University's SF Math Circle is taking decisive steps to change that by providing engaging and interactive after-school math workshops for elementary and middle school students.
SF Math Circle (SFMC) is run by the University's Center for Science and Mathematics Education (CSME). The program, a collaboration between the College of Science & Engineering (CoSE) and the Graduate College of Education (GCoE) is transformative for the enrolled students, and also for the SF State students who are teachers in the program. They often become so inspired by the program that they decide to pursue math teacher certification to become math teachers in their communities. This career shift is an important one for California school districts, which are experiencing an acute shortage of math teachers throughout the state.
Fifteen years ago, SF Math Circle was created by SF State Mathematics professor Matthias Beck and University of San Francisco Mathematics professor Paul Zeitz out of the desire to support equity in STEM education and educational instruction. CSME's current director, Larry Horvath, sees the value of synergy between the two colleges involved in the program, CoSE and GCoE. "We've worked hard to collaborate on increasing the pipeline of science, math, and computer science teachers," says Larry.
SF Math Circle is low-cost and open to all San Francisco students from 2nd-8th grade. Interactive puzzles and games are used in small groups, with increasing levels of difficulty which are driven by the students themselves. "We believe math is a lot bigger and more fun than just numbers and arithmetic," says SF Math Circle director David Klein. "Math is fundamentally a way of thinking: the kind of thinking you do when you're trying to figure things out." He adds, "Our goal is to help students develop their overall ability to think through, and solve any kind of problem, and to enjoy doing that kind of thinking."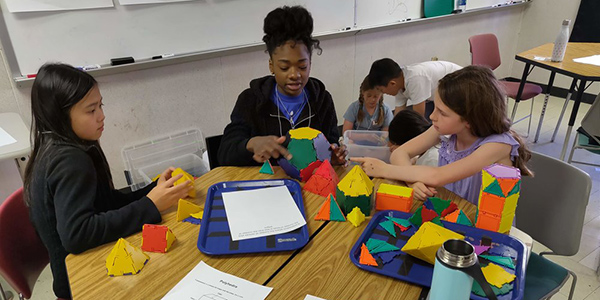 SF Math Circle in pre-COVID-19 times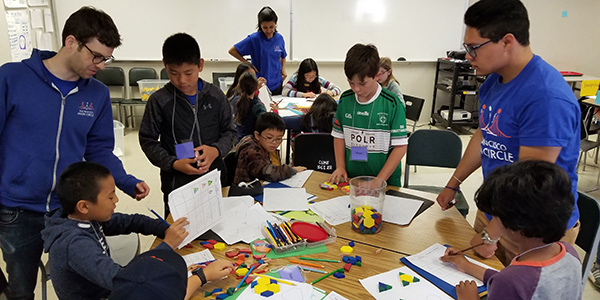 SF Math Circle in pre-COVID-19 times
Math Circle utilizes a low floor/high ceiling approach which allows students to develop skills at their own pace and build self-confidence. David continues, "Ultimately, we want to meet students where they are, and give them opportunities to explore in the way that works best for them." Eric Hsu, Chair of the SF State Math Department and long-time SF Math Circle leader, adds, "Some enrichment programs like this are about finding the best mathematicians in the room. We are proud that our program is about finding the best mathematician in everyone."
This approach makes teaching, as well as learning, fun and attractive. SF State alum Gloria Cuevas (B.A., Mathematics, '20) started working with SF Math Circle in her sophomore year after one of her professors suggested she apply. Gloria had been working as a file clerk at a local law firm and took two weeks off of work to work at SF Math Circle to see if she liked it. Once she started, she was hooked, "I actually really enjoy coming in every day to work with the kids, they brighten my day up so much." Gloria quit her job with the law firm, joined SF Math Circle, and is planning on getting her teaching credentials next year so that she can work as a math teacher in public schools.
"I want to teach math, that's what I'm going to do. I feel very passionate about it now,"
–Gloria Cuevas (B.A., Mathematics, '20)
SF Math Circle had a similar impact on third-year Liberal Studies student Cindy Gutierrez, who has been part of the program since 2018. Cindy knew she wanted to go into education but had not seriously considered teaching math before joining SF Math Circle. "I just loved this right off the bat," says Cindy. "I really get to see the different ways that the kids think, and we can be flexible towards them to help them. It's nice to see them realize it's ok to have fun while learning. They love it." says Cindy.
Nancy Blachman, founder of the Julia Robinson Mathematics Festival and longtime SF Math Circle supporter, is inspired by the students' high level of enthusiasm and engagement in the program. "When mathematics is fun, students spend more time exploring, discovering, learning, and understanding and thus become more adept," says Nancy.
"The next generation's ability to think critically will be vital as we collectively face some of the most daunting challenges in human history. I support SF Math Circles because I want more students to find the beauty of mathematics and enjoy problem exploration and discovery."
–Nancy Blachman, SF Math Circle supporter
Larry Horvath feels that many students turn away from STEM or computer science because they are intimidated by the math involved. He sees SF Math Circle as a key element in the University's ability to change that: "Math Circle is math for the people, and it opens a world to many students who think it is not open to them. It empowers them and gives them many more opportunities."
"Math Circle is a way to open to a diverse population to be really inclusive, which is what we all need and want to see."
–Larry Horvath, CSME Director
Last spring, the COVID-19 pandemic forced Math Circle to pivot away from hands-on learning to remote learning. With over 200 students enrolled in 23 classes, the change had to be made quickly. After intensive planning, the program retooled to become more team-focused in approach. Director of outreach, Tyler Knapp comments, "Keeping students engaged and giving them chances to interact with each other and with instructors can be challenging in online classes, but we've found that having students explore together in small teams really helps." The switch to remote learning was a difficult transition, but SF Math Circle rose to the occasion, partnering with the Julia Robinson Mathematics Festival, a fellow math enrichment organization, to design new digital apps and games to complement this new mode of learning.
Whether online or in-person, David Klein remains steadfast in SF Math Circle's goals, "We want our students to develop an identity where they feel like 'Not only am I not afraid of doing this kind of thinking, I like doing it, I'm good at it, and I'm even going to seek out opportunities to do it!'"
For more information about the Math Circle Program, contact:
David Fierberg, MNA, CFRE ( He/Him/His )
Executive Director of Development
Graduate College of Education
(415) 405-3966