Annual checkups at the pediatrician are typically stressful for kids. One family's toddler is afraid of needles, and every visit to date has thus resulted in tears. But something is different on this visit. A small robot catches the child's attention and begins speaking. The child's eyes light up and a smile forms on his face as they start playing a game together. When it comes time for his booster shot, he closes his eyes and squeezes the robot — without tears. International startup ZoraBots, a software company, wants its clients to envision this scenario, and San Francisco State University College of Business students are making that possible.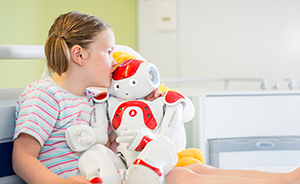 Students in Assistant Professor of Marketing Nga Ho-Dac's "Digital Marketing" class have been working all semester to develop an integrated digital marketing platform for ZoraBots, which creates user-friendly software for hospitality and companion robots
When the semester ends, the finished product will include a website that's search-engine optimized, digital ads, articles, social media, and email marketing campaigns, as well as promotional videos targeting sectors where the robots will be used, such as retail, education, or healthcare.
Ho-Dac says he likes having students working on these types of projects because nothing replaces actual experience.
"Students are building a website from scratch and they then use that as a platform to do marketing," Ho-Dac said. "They're also using Google analytics to measure the website's performance and to test the performance of different landing pages and website features."
Jonah Kaufman, a senior majoring in marketing, said the class is invaluable because students are getting professional experience. His group is in charge of promoting the robot's software and user interface, and members are writing articles and creating promotional videos that will all be housed on the website, he says. "You're not just reading from a book, you're doing it for a website. Rather than hypotheticals you're actually doing it, so you learn a lot faster," he said.
Students aren't just picking up technical skills, they're also learning to understand the needs of their customers. For example, a client may think they need advertising, but students may find that's not actually what the customer needs, Ho-Dac adds. "The students learn to give the customers what they really want by asking the clients about the objectives of the campaign," he said.
Benjamin Le Cam, U.S. vice president of business development for ZoraBots, has been working closely with students to execute the company's vision. Once the project is completed, he says, this will be a wonderful way for students to boost their resumes; some may even get an internship with the company following the class.
"We're a startup so we don't have a budget for marketing, so this is a perfect relationship because students are creating a product for a real company," he said. "Students have creativity we don't have. I give them guidelines, but of course, they can come to me with their ideas."
Students are working on technology that will be part of the future of retail, health care, and education. "The robots are really hot right now and working with this company could help students land a good job in the future," Ho-Dac said.
For more information, contact:
Anjali Billa ( She/Her/Hers )
Associate Vice President of University Development
Lam Family College of Business
(415) 405-3625