Judo and wrestling student-athlete Maxamillian Schneider's impressive list of accomplishments boasts wins on over six different continents. He has been a notable presence in the sports world from a young age, and as a junior in high school represented the United States as a judoka at the inaugural 2010 Summer Youth Olympics in Singapore. Maxamillian also holds the distinction of being the first Chicago Public High School league wrestler to be a two-time state champion since 1953. In 2012 Maxamillian was named CPS's Athlete of the Year, and just four years later, at the age of 23, he was selected as a training partner for the 2016 Olympic Games.
When longtime friend Jason Welch mentioned he would be accepting an offer to be the head wrestling coach at San Francisco State University, Maximillian began to consider the prospects of obtaining a degree there. Once he realized that there were scholarships and financial aid available to assist him, he began to consider his dream a potential reality. The decision proved difficult, as it meant moving from his longtime home of Chicago and closing the Judo school he had launched. "It was really nice that there were scholarships available for me because I don't think I would have been able to make that move otherwise. Especially considering it was a move across the country and involved me upending my life and having to close my school and say goodbye to my students," says Maxamillian.
"[SF State is] a very eclectic campus and the student body is very diverse and open-minded — which is something I was looking for, as other institutions felt very homogeneous."
Once Maxamillian enrolled at SF State in 2018, he reintroduced himself to the world of wrestling as a member of the University's wrestling team. His initial year at SF State held its share of adjustments, and after a years-long hiatus from the sport, he had some difficulties regaining his footing. Maxamillian says his teammates provided the sense of community and support he was yearning for. "When I first moved to SF I only knew my coach, so it was great to become a part of a community so fast, and to be able to have people to depend on in the practice room and to spend time with recreationally as well." He adjusted quickly, and had a great second year, with the achievement of being named the 2019-20 Rocky Mountain Athletic Conference (RMAC) Wrestler of the Year.
Maxamillian's impetus for choosing his major of biochemistry came from his concern for the way his teammates were weight cutting and body conditioning for competitions. "I saw a need for people to do this in a safe way. I began to read nutrition books and became interested in these sorts of chemical and biological equations and I wanted to know more about them." While taking classes in the College of Science & Engineering, he discovered he also had a desire to learn computer science and began to minor in the subject. Maxamillian hopes to one day open his own business in Illinois to help the local economy. "Sports gave me a great privilege, and some of my friends weren't as lucky to get out as I did, so I want to use my degree to open a business to employ and stimulate the local economic community there."
With a life full of constant change and redirection, Maxamillian feels a sense of home at SF State. "It's a very eclectic campus and the student body is very diverse and open-minded — which is something I was looking for, as other institutions felt very homogeneous," says Maxamillian. "The opportunity of being awarded this scholarship changed my life and made me able to come to SF State to get a degree."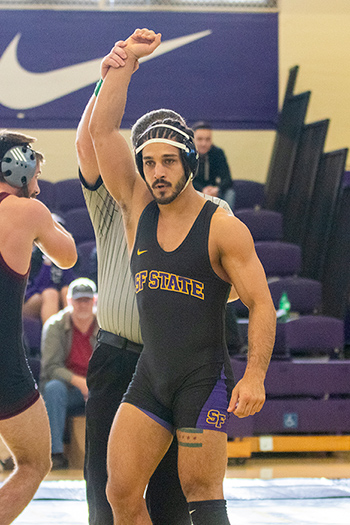 For more information, contact:
David Fierberg, MNA, CFRE ( He/Him/His )
Executive Director of Development
(415) 405-3966