As a student-athlete, wife, and mother, Monisha Lewis is no stranger to the art of balancing life. The SF State All American track star effortlessly hurdled her way into the spotlight this season as she broke program records and assisted the Gators in taking home their first-ever CCAA Championship. She placed first in the 100-meter hurdles and was named the CCAA Newcomer of the Meet as well as the CCAA Track and Field Athlete of the year.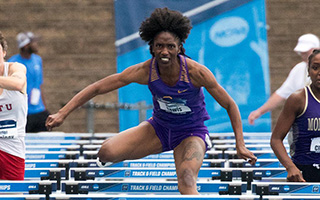 Monisha Lewis in competition
After obtaining her Associate's degree, Monisha took some time off from track and her academics to focus on raising a family, but soon thereafter decided to finish her degree. She was eager to leap back into her studies and find her way to the track when she was offered a place at SF State and was named a recipient of the George and Judy Marcus scholarship, a fund that assists outstanding athletes in accomplishing their goals and encouraging them to reach for more. "The staff and the generosity of George and Judy Marcus played a huge part in me being as successful as possible and I'm forever grateful for that."
Earning her Bachelors in African Studies this Spring, Lewis has set her sights on even bigger dreams with hopes of competing for Team USA in the upcoming 2020 Olympics.   Monisha Lewis of the No. 9 San Francisco State track & field team has been named the CCAA Track & Field Athlete of the Year, the conference announced this morning. She becomes the first honoree in program history.
"Monisha had a very long and difficult road to achieve her success, but her determination and commitment have paid off," said Head Coach Kendra Reimer. "She is a leader and role model to the other women on the team. We are so proud of everything Monisha has accomplished this year."
For more information, contact:
David Fierberg, MNA, CFRE ( He/Him/His )
Executive Director of Development
(415) 405-3966