Start with an 11-game winning streak for men's basketball, crown it with national championship rings for women's track and field and finish up with the coach of the year honors in multiple sports. Historic firsts, personal bests, and school records broken made for a dynamic 2016-17 season for San Francisco State athletics. Topping it off: 21 student-athletes earned spots on the fall conference all-academic team. In the spring, 57 student-athletes achieved scholar status, earning GPAs of 3.5 or higher.
"It shows we are investing in our student-athletes not only academically, but athletically,"says former Director of Athletics Bill Nepfel, who recently retired. "We've proven we can win."
But if there are one lesson sports teaches, it's this: You can't win alone. You need a strong team behind you. And backing SF State's student-athletes are supporters like Judy Marcus (B.A., '62).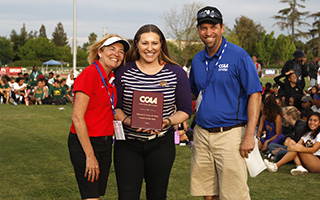 SF State Head Track and Field Coach Kendra Reimer earned her second-straight CCAA Head Track and Field Coach of the Year award in 2017
An ardent investor in SF State athletics, Judy serves on the Foundation's athletics committee and, with her husband, established the Judy and George Marcus Athletics Scholarships.
"People need help, especially those who live in San Francisco," says Judy, who majored in physical education and rooted for fellow student-athletes as a cheerleader. "There's a lot of need. And our students really do well with a limited amount of resources."
It's worth the investment, she believes because student-athletes are an invaluable resource to the University and broader community. Judy ticks off their assets: They maintain constructive priorities, set goals, and manage their time. "They work up to their potential, and they're not afraid of failure," she adds. "And that follows them after they graduate."
Data supports that a commitment to student-athletes pays measurable dividends. Gators average a 3.04 GPA and a 73 percent graduation rate, among the highest in the California Collegiate Athletic Association. Institutions with strong scholarship support for student-athletes also see greater year-over-year retention rates, points out Brandon Davis, Associate Director of Athletics for Communications and Fan Development. "Scholarships have increased across the board, which has helped us become more competitive both at the conference level and, in turn, at the national level and in drawing stronger student-athletes," he says.
Adding to the fresh energy and enthusiasm infusing the 2016-17 season were facility improvements and new leadership. Gators welcomed four new coaches:  in women's basketball, men's basketball, softball, and wrestling. Updates to playing venues included upgraded softball facilities, a new scoreboard for baseball, and improved signage. The result: a standout year for SF State sports. "The definite highlight in 2016-17 was the women's track and field team first-place finish at the NCAA National Championship in the 4x400 meter relay," Brandon says. "Men's basketball ranked in Division II Top 25 and clinched our first postseason berth since 1993-94. Men's soccer reached the conference semifinals for the first time since 1978."
Not surprisingly, success fuels success. As teams advance in the standings and school spirit on campus grows, interest among peers and those outside the University heightens too, Brandon points out."It gets people coming to the games and gets them curious about the University and in becoming Gators," he says.
Judy encourages fellow alumni, including past student-athletes, to dig out their purple T-shirts and consider a trip back to campus. "I would like to see people step up to the plate and match the money that's been put in the athletics fund," she says. "I've seen a big difference at SF State in the past five years in terms of being recognized as one of the better schools for Division II athletics —and every year it's getting better."
For more information, contact:
David Fierberg, MNA, CFRE ( He/Him/His )
Executive Director of Development
(415) 405-3966