A bequest from retired television writer and producer Toni Weingarten will provide scholarships for first-generation, educationally and economically disadvantaged students who want to pursue bachelor's degrees in the theatre arts at San Francisco State University.
The scholarships will first provide paid internships at San Francisco's Magic Theatre to Laney College students. Upon completion of their studies at Laney, a diverse, urban community college in Oakland, the students can transfer to SF State's theatre program to finish their degrees in any of the theatre arts.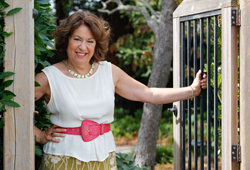 "Through Toni Weingarten's generosity, future students will have the opportunity to gain practical, hands-on experience through the Magic Theatre internship and then further their scholarly, creative, and cultural interests as they attain their bachelor's degrees at San Francisco State," said President Les Wong. "This scholarship will provide them with the best of both worlds."
"Any time a student can connect to the professional community, it's of tremendous value to them, the school, and the partnering company [in this case, the Magic Theatre]," said Todd Roehrman, director of SF State's School of Theatre and Dance. "With Toni's vision and generosity, that dream will be a reality for future generations of theatre artists."
Weingarten was born in Oakland and took drama classes throughout high school. During that time, she attended a residential summer theatre workshop at SF State. Though she never considered herself an actress, she loved being involved in theatre.
"I can't imagine youth today not having arts education, especially drama classes," said Weingarten. "Not everyone can or wants to act. There are careers in the theatre where one can make a living, from stagehands to costumers to lighting techs, and all are crucial to good theatre. My hope is that young people learn that they can have a life in a creative profession, and this will keep the love of live theatre vibrant."