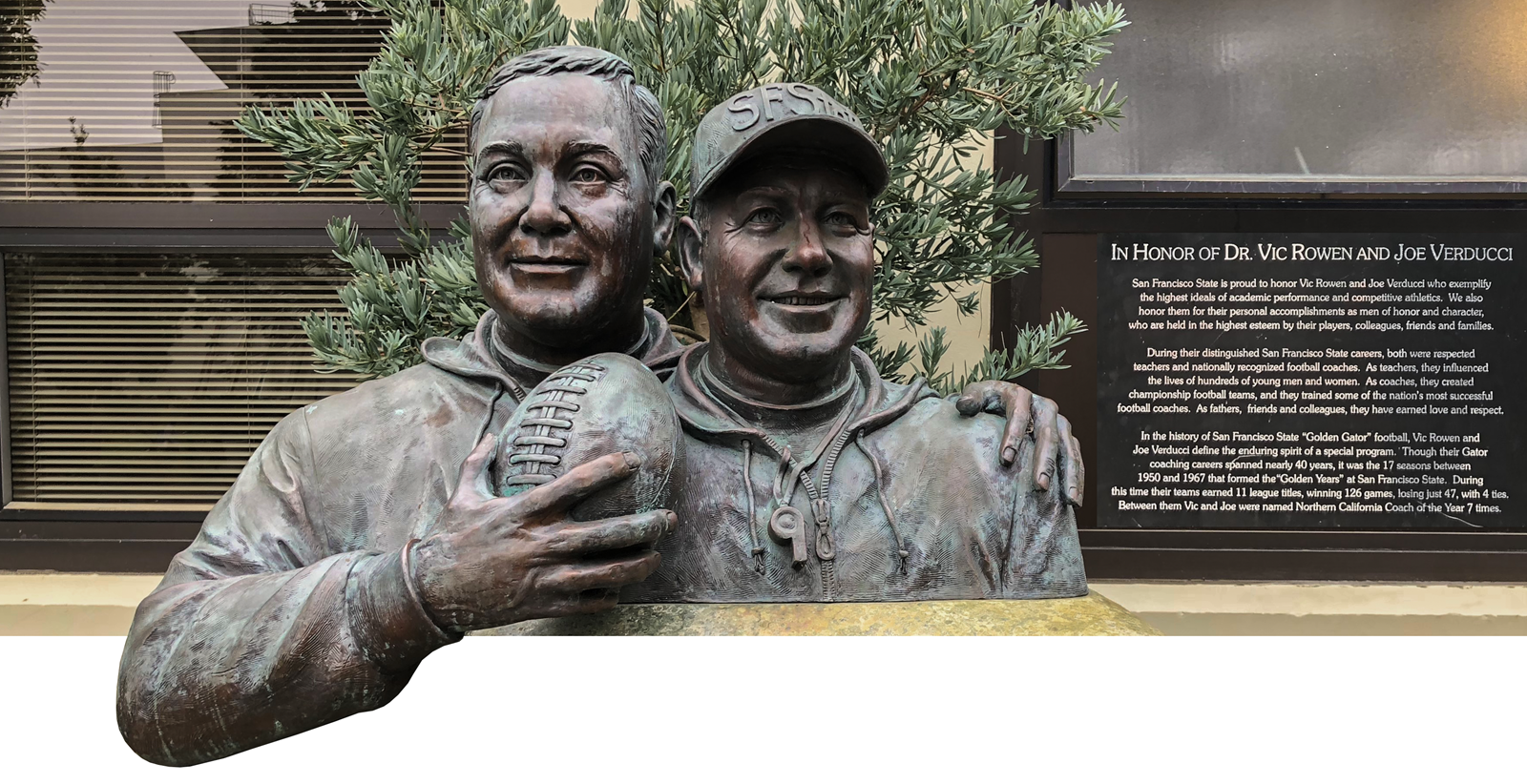 Gator Gridiron Club Launches $150,000 Campaign for Student-Athlete Scholarships
Vic Rowen (1919-2013) was the esteemed head coach of San Francisco State University's football team from 1961-1989. His early tenure established SF State as a West Coast football powerhouse. Under his leadership, SF State won five Far Western Conference titles and attracted top football talent to the University, including future NFL standouts Floyd Peters, Bill Baird, Charlie Fuller and Elmer Collett. The San Francisco State football team held its last playing season in 1994.
Later in his career, Rowen became known for developing outstanding coaching talent. Two of his assistant coaches later led teams as head coach in Super Bowls: Andy Reid with the Philadelphia Eagles and Mike Holmgren with the Green Bay Packers and the Seattle Seahawks. Another, Bob Toledo, became head coach at UCLA and Tulane University.
Rowen was a staunch advocate for all sports and student-athletes at SF State. He was first and foremost an educator who taught, coached and worked on behalf of students and sports. In his honor, the Gator Gridiron Club created the Vic Rowen Scholarship in 2001. To celebrate the 20-year anniversary of the inception of the fund, the Club is now spearheading a fundraising campaign to permanently endow the fund with $150,000 to support student-athletes majoring in Kinesiology with a concentration in Physical Education or a minor in Coaching.
Student scholarships are vital to attracting and retaining talented student-athletes to Gator Athletics. For many, a scholarship can be the deciding factor in a student's ability to attend college.
Please join in on the worthy tribute to one of SF State's most loved coaches and mentors.
For more information about donating to
the Vic Rowen Scholarship, contact:
David Fierberg, MNA, CFRE
Director of Development
Gator Athletics
Email: dfierberg@sfsu.edu
Phone: (415) 405-3966
READ MORE ABOUT DAVID
Donate by Mail
Office of University Development
Memo: "Vic Rowen Scholarship"
San Francisco State University
1600 Holloway Ave., ADM153
San Francisco, CA 94132
Current gifts and pledged gifts for a period of up to five years are welcome as well as gifts provided in estate plans.
Vic Rowen at San Francisco State University
VIC ROWEN SCHOLARSHIP COMMITTEE CO-CHAIRS
Stephanie Shrieve-Hawkins, Athletic Director & Don McPhail, SF State '66
HONORARY CHAIRS (& SUPER BOWL CHAMPS!)
Bill Baird, Gil Haskell, Mike Holmgren, Tom Melvin, John Ramsdell, Andy Reid
HONORARY COMMITTEE
Dr. Allen Abraham, Don Briemle, Stan Bunger, Elmer Collett, Dennis Dow, Norm Eliason, Dan Ferrigno, Joe Garrity, Dr. James Glick, Bob Griffin, Denise Hall, Mark Hollis, Doug Hupke, Joe Koontz, Hon. Quentin Kopp, Ed Larios, Mike Meyer, Manuel Perry, Reggie Redmond, Keith Rowen, Jim Schmitz, Pat Sullivan, Bob Toledo, Lamonte Winston