By Gail Mallimson, University Development
September 2020
2019 Kenneth S. Fong Translational Research Award-Winner: 
In-Home Robotic Therapy System
When Assistant Professor of Mechanical Engineering, David Quintero was searching for his first faculty position in 2018, the main draw to San Francisco State University was the potential to partner with Dr. Charmayne Hughes and Dr. Xiaorong Zhang on research in rehabilitation robotics. Dr. Hughes is the Health Equity Institute Professor of Kinesiology in the College of Health and Social Services, and Dr. Zhang is an Associate Professor of Computer Engineering in the College of Science & Engineering. "Dr. Hughes and Dr. Zhang bring great expertise on this type of project, and that really got me motivated to work with them," Dr. Quintero says.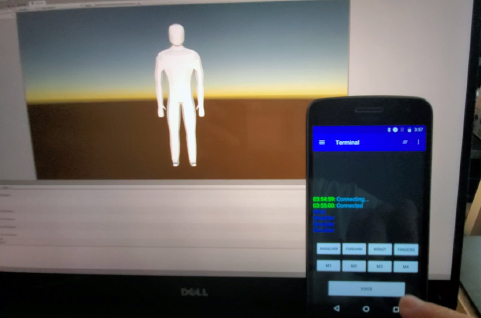 Receiving the $20,000 Dr. Kenneth S. Fong Translational Research Award in 2019 offered the three faculty members that opportunity. The award established and generously funded by alumnus Dr. Kenneth S. Fong (B.S., Clinical Science '71; M.A., Microbiology '71), promotes cross-disciplinary research and faculty partnerships. "It was just a natural fit for us to work together," says Dr. Hughes. Dr. Zhang, a second-time winner of the award, agrees, "This grant really encourages collaboration between different disciplines, and to reach out to potential collaborators to come up with new ideas." she says. Dr. Zhang believes that working across disciplines also encouraged the students who assisted on the project to widen their perspectives and to become comfortable with the current multidisciplinary trend in research.

The team's goal was to develop an upper-body robotic exoskeleton for in-home rehabilitation of stroke victims that is lightweight, portable, and low-cost. The result is an assistive device intended for stroke victims to use independently in their homes, with minimal assistance from professional therapists or doctors. It is designed to help stroke victims regain the use of their limbs by reconnecting damaged parts of the brain through robotic intervention for retraining paralyzed body parts to move. Ideally, the end product will also be adaptable as a permanent aid to patients who were not able to regain full use of their limbs through therapy. 
If the robotic exoskeleton is mass-produced, it will have the potential to revolutionize stroke rehab. Many of the millions of worldwide stroke survivors have mobility issues, financial constraints, and live in remote areas, all factors which can prohibit the use of traditional therapies. According to Dr. Hughes, stroke is the leading cause of adult disability in the world, and the average age of stroke victims in low- and middle-income countries is much younger than in developed nations. This adds importance to creating an accessible form of therapy, "When a patient loses the use of a limb, it really limits their independence, their ability to go back to work, and provide for their family," explains Dr. Hughes. "We've tried to be very intentional in this project, by actually designing it with the end-user in mind from the start, understanding both their physical as well as their cognitive limitations."

While the COVID-19 pandemic cut the team's work short, they are persevering with their work. Dr. Zhang's team developed the sensing and control interface to perceive and translate the wearer's desired movements, which was due to be tested with humans this spring. Instead, she and her students developed a computer-based evaluation platform, with a virtual human model responding to control commands sent through audio commands. (See picture at right). 
Dr. Quintero's team is tasked with designing and manufacturing the exoskeleton prototype for human testing. He and his students have made an exo-power hand glove and elbow, which they are currently trying to test and get up and running from home. Dr. Hughes, who has a relationship with a leading hospital in Ethiopia, is making arrangements to ship the exoskeleton prototype there to collect clinical data. "We're trying to pivot and do the things that we can do," says Dr. Hughes, "And help a nation that is one of the world's poorest at the same time."
For more information, contact:
Holly Fincke ( She/Her/Hers )
Senior Director of Development
College of Science and Engineering
(415) 338-7118