By Gail Mallimson
Like the United States, San Francisco State University is a rich mixing bowl of cultures, perspectives, and beliefs —which sometimes erupt in conflict. Although difficult, these conflicts can offer the community an opportunity to grow. In 1968, the College of Ethnic Studies was born out of a battle over equity that was led by student protesters. The fight that ensued was difficult, but the College of Ethnic Studies provides a tremendous value to SF State's students, and its programs have been emulated across the country.
Frank and Linda Kurtz (M.S., '74) are no strangers to the ugly effects of unchecked conflict. Both of their fathers were imprisoned in Europe before World War II and were badly mistreated under totalitarian regimes. After her father died in 1958, Linda's mother was a single mom who struggled to put food on the table, and Linda, her brother Bernie, and her younger sister Beverly grew up impoverished. Although he was an eager student, Bernie could not afford college, which would have provided him with a draft deferment during the Vietnam War years. Instead, he was sent to Vietnam to fight and was killed in battle in 1968.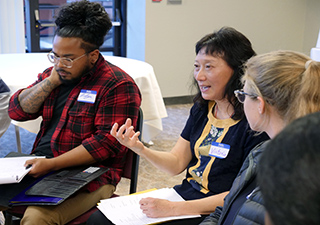 "If you really care about relationships in society, respect for one another, and collaboration in creating harmony and social justice, if those are your visions, then you're in the right place. I can teach you a process to work toward these goals."
-Professor Victoria Chen, Communication Studies Department
After her brother died, Linda was able to find her way to SF State, graduating in 1974 with a degree in rehabilitation counseling from the College of Health and Social Sciences. She met her husband Frank in 1966 on a study abroad year in Israel that was paid for with a scholarship, and the two have been married since 1968. Frank and Linda are both retired now, and after living in San Francisco for decades, consider themselves lucky to be able to give back to their community.
Donating to SF State seemed an obvious choice to the couple. "I think it's an investment," says Frank, "In a place like SF State, even a modest contribution can have a real impact." Wanting to help students at SF State who, like Bernie, lack economic resources, Frank and Linda endowed a scholarship in Bernie's memory in 2012. The scholarship is awarded yearly to students attending classes or majoring in Jewish Studies.
Frank and Linda are inspired by the Jewish perspective on giving back to one's community. Linda explains, "In the Jewish religion, there is no direct word for charity. The word is Tzedakah which is about giving with justice, it's not just giving when you are in the mood."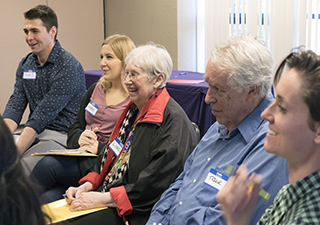 Linda and Frank Kurtz (center) attend Professor Chen's workshop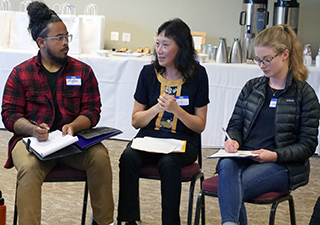 Students Justyn Morena (left) and Josette Marsh (right) with Professor Victoria Chen (center)
In 2017 Frank and Linda attended a large SF State event called "Collaboration Through Differences: Campus Dialogue". The event was organized by Professor Victoria Chen of the Communication Studies Department, in partnership with the 80 students enrolled in her class "Dialogue Across Difference". Moved by the positive approach to managing conflict that they saw in this event, they began talking with Professor Chen about creating smaller intensive workshops for students on campus.
The result is a day-long conflict management workshop which has now been offered to students twice. It is designed to give students from all campus disciplines a useful theoretical perspective on conflict and differences, and concrete skills in creating positive dialogue, engaging with differences in others, and facilitating difficult dialogue. Students learn to use "systemic questioning" and other models of facilitating and building dialogue and community.
The reactions from student participants have been overwhelmingly positive. Economics major Julie Kim felt the effects right away, "At work, I was able to practice what I learned. I intern at a non-profit that uses mediation as a form of conflict resolution. Clients call with high stress, and I must diffuse and ground clients by validating their feelings and restating their sentences. Overall, the workshop has been very helpful."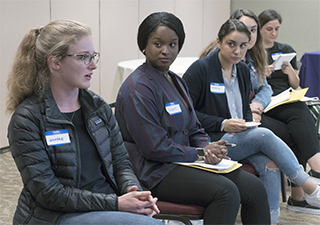 Students Josette Marsh, Shanice Watson, and Andrea Romero-Flores (left to right)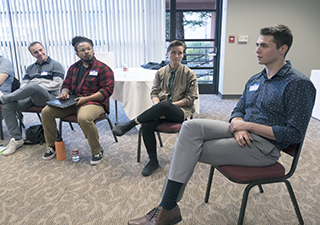 Students Tyler Ayers-Nusbaum, Justyn Moreno, Dellena Kinkles, and Patrick Boyle (left to right)
"It was incredible to see [Professor Chen] find commonalities between disagreeing parties and tie them back together to have a productive conversation. The parties don't have to end up agreeing or changing their views, but at least they feel that they have been listened to" -Patrick Boyle
Patrick Boyle, a Decision Science Major & Information Systems Minor in the College of Business was particularly impressed with Victoria's facilitation of the workshop, "It was incredible to see her find commonalities between disagreeing parties and tie them back together to have a productive conversation. The parties don't have to end up agreeing or changing their views, but at least they feel that they have been listened to."
Linda and Frank's hope is that the workshop participants will carry what they learn out into their own circle of friends, colleagues, and families. "Our intent is to give students the general skills of critical thinking and dialogue so that they can empower others and improve the whole climate at San Francisco State University," says Linda.
Frank and Linda would like to sponsor more conflict management workshops in the future and are working with the College of Liberal and Creative Arts to continue the program. "It's a small step but it's something that is within our means to support," says Frank. "We've been highly impressed with two groups of students so far who participated in the workshop. We are hopeful that over time this will become more and more visible and the number of students that will be able to participate will continue to grow."
For more information about donating to the College of Liberal and Creative Arts, contact:
Bonnie Feinberg ( She/Her/Hers )
Senior Director of Development (Liberal Arts)
College of Liberal & Creative Arts
(415) 338-6363