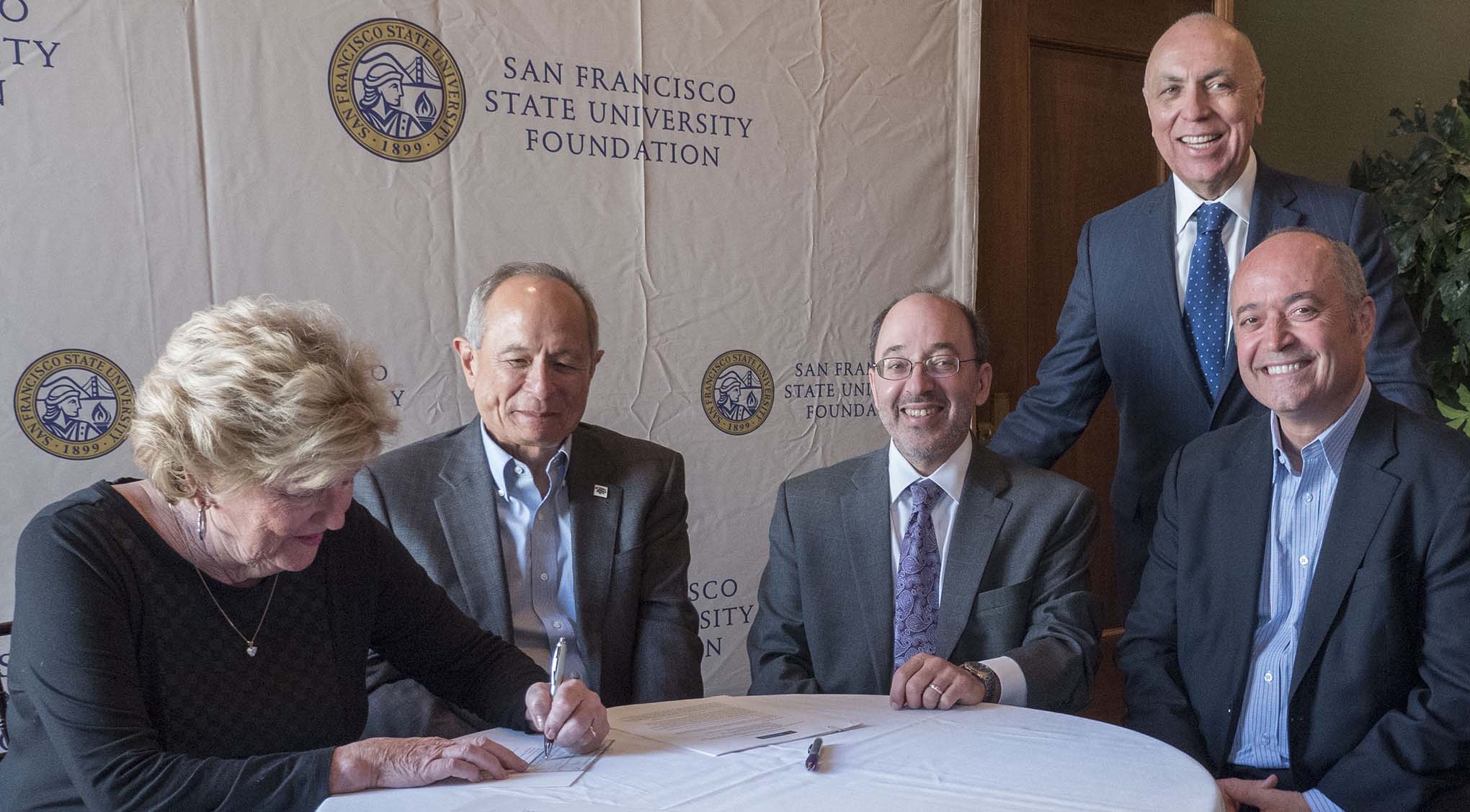 Photo: Judy Marcus signing $25 Million check to San Francisco State University on November 8, 2018. L to R: Judy Marcus; SF State President Leslie Wong; College of Liberal and Creative Arts Dean Andrew Harris; Vice President of Advancement Robert Nava (standing); SF State Foundation Board Member John Gumas
By Gail Mallimson
On November 26th, 2018, San Francisco State University President Leslie Wong announced a $25 million gift from alumni George (B.A., '65) and Judy Otten Marcus (B.A., '62) as part of the University's BOLD Thinking campaign. The newly established George and Judy Marcus Funds for Excellence in the Liberal Arts, in combination with the Marcus' recent $1.8 million donation to SF State Athletics Scholarships, comprise the largest gift in the University's history. The Marcuses' donation has propelled the campaign to a major milestone, with over $134 million (90% of goal) raised to support University students, facilities, faculty, and programs.
"We are extremely grateful for the Marcuses' generosity and ongoing service and commitment to San Francisco State University," said President Wong. "Their steadfast support has had a profound impact on our students, faculty, staff and programs, and this history-making gift will carry that legacy far into the future."
George and Judy Marcus— A Love Blossoming From and For San Francisco State University
After they started dating while undergraduates at San Francisco State University, George Marcus and Judy Otten Marcus fell in love and married, raising four children from their home in Los Altos Hills. Always community-focused, they became Bay Area luminaries, forging unique paths in business, community leadership, and philanthropy.
Their love of their alma mater, SF State, is evident in their leading role and partnership in the University's growth and success. Judy Marcus has served on the board of SF State's Foundation for many years. George Marcus is an emeritus member of the CSU Board of Trustees and a current member of the CSU Foundation's Board of Governors. Together the couple are the University's largest donors, and since 1999 have contributed over $28 million to several areas on campus including Athletics, the Arts, Humanities, the Guardian Scholars program, The Willie L. Brown Jr. Fellowship and several scholarship funds. "San Francisco State helped define our future," said Judy Marcus. "It is our hope that this gift will do the same for students and faculty in the College of Liberal and Creative Arts now and for many years to come."
George Marcus's bold thinking has manifested in his professional life as well as in philanthropy. His family migrated from Greece when he was a child, and like over 37% of SF State's student body, his was the first generation in his family to graduate from college. Armed with a bachelor's degree in economics, which he completed in 2 ½ years, he founded Marcus and Millichap in 1971, a real estate development, investment, and brokerage firm that now has offices in 39 states. According to a 2011 Profile of Mr. Marcus in Palo Alto Online, his business success has been largely due to his iconoclastic approach and his energy, vision and drive.
The Marcuses' Legacy— Innovation and Transformation Through the Liberal Arts
With six schools, 15 departments, 11 centers and institutes, and one of the most diverse campuses in the U.S., SF State's College of Liberal and Creative Arts (CLCA) is a progressive force for creativity, intellectual thought, and cultural change. The College's commitment to the liberal arts drew the Marcuses to invest in its programs.
The George and Judy Marcus Funds for Excellence in the Liberal Arts will endow two new faculty chairs in the college's Creative Writing Department and two in the School of Cinema. The Funds will also support renewed facilities and faculty and student research in the college through the George and Judy Marcus Awards for Faculty and Student Research.
"The Marcuses' funding of the arts at SF State is incredibly generous and is also emblematic of today's priorities amongst philanthropists in the U.S." says Tina Frank, Interim Associate Vice President of Development at SF State. "There is a growing awareness that our country needs people who can communicate effectively, think creatively and critically, and encounter our world's complexity with respect and insight. Offering SF State's diverse students the tools they need to bring their voices into the world is incredibly important work."
San Francisco State University's Creative Writing and Cinema programs are already ranked as some of the finest in the country, and have graduated and employ many distinguished and award-winning authors and filmmakers. Both programs are known for supporting student experimentation and career readiness, and for having a deep connection with the University's ethos of social equity and inclusion.
"The generosity and vision of George and Judy Marcus will empower the students and faculty of Cinema, Creative Writing, and the College as a whole, creating opportunities for our students and faculty to make great contributions in their professional development and in their respective fields of study," said Dean of the College of Liberal & Creative Arts Andrew Harris. "We could not be more pleased at what this makes possible for our academic community. George and Judy's commitment to the power of the liberal arts is inspiring."
George and Judy Marcus
"San Francisco State helped define our future. It is our hope that this gift will do the same for students and faculty in the College of Liberal and Creative Arts now and for many years to come."
—Judy Marcus
For more information about donating to the College of Liberal and Creative Arts: