By Gail Mallimson, University Development
In April 2019, San Francisco State University's President Leslie E. Wong announced the donation of a historic $25 million gift from alumnus Chris Larsen (B.S., '84), his wife Lyna Lam, and the Rippleworks Foundation to the College of Business, establishing the Chris Larsen and Lyna Lam Funds for the College of Business. In honor of Lam-Larsen's longtime support and generosity, the California State University has also announced the naming of the University's College of Business the Lam Family College of Business.
The Lam-Larsens' generous gift, one of the largest the University has ever received, will heighten the College of Business's ability to respond to shifts within the business sector, and prepare students to become tomorrow's business innovators and entrepreneurs. A large portion of the Lam-Larsen/Rippleworks gift was made with the digital asset, XRP, the first digital asset donation in SF State's history, and one of the largest gifts made in a digital asset in the U.S. to a university.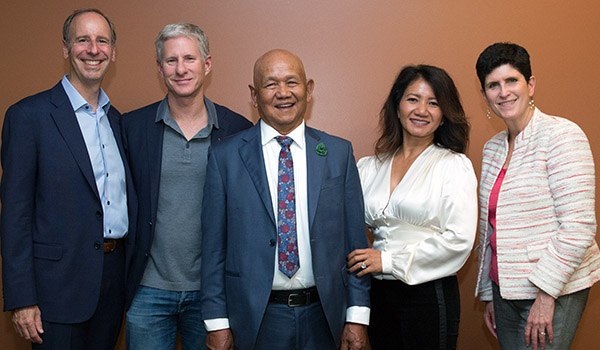 Left to right: Doug Galen, Chris Larsen, Quang Lam, Lyna Lam, President Lynn Mahoney, Ph.D.
Stalwart Supporters and Close Alumni 
Chris Larsen and Lyna Lam, whose two sisters and several other family members attended SF State, have been stalwart supporters of the University since 2001. In addition to the $25 million in gifts to the College of Business, they have donated more than $800,000 to scholarships, education, science, and business initiatives throughout the University. Their gifts include the establishment of the Chris Larsen Scholarship Fund in the Graduate College of Education and the support of initiatives in the Biology department in the College of Science and Engineering.
At the recommendation of Chris, the Lam Family College of Business is named in honor of Lyna's family, particularly her father, Quang Lam, who led his family in their escape from war and genocide in Cambodia. After a few years in refugee camps in Thailand and the Philippines, the Lam family immigrated to the U.S. and settled in the Bay Area. Chris looks up to Quang Lam as someone who worked hard to give his family the American dream. He sees his father-in-law's ingenuity, grit, and determination as great examples of the attributes possessed by SF State students, thirty-seven percent of whom are the first in their families to attend college.
Inspiring SF State Students to be Innovative and Responsible Leaders
The College of Business has received funding to establish the Lam-Larsen Fund for Global Innovation. This fund will enable SF State students, faculty, alumni, and other experts to come together across disciplines to share ideas, think creatively, and learn all aspects of entrepreneurship. It will nurture a global awareness, encourage students to identify and solve problems, and will foster exceptional, responsible business leaders who know how to "connect the dots" in distinctive, solutions-oriented ways. Five new initiatives are being created in the College of Business from the Lam-Larsen Fund for Global Innovation:
Innovation and Entrepreneurship Initiative
Emerging and Developing Economies Initiative
Financial Technology Initiative
Business and Education Technology Initiative
Center for Workforce of the Future 
The Lam-Larsen/Rippleworks gift is a lead gift in the University's BOLD Thinking campaign. To date, the campaign is more than 90% funded, and well on its way to assuring SF State's position as a "world-class university at the heart of a world-class city." SF State's President Leslie Wong feels that the Lam-Larsen/Rippleworks gift is key to the University's growth and vital to the campaign's impact, "This groundbreaking donation will position the College of Business as an evolving, distinctly diverse, and industry-relevant epicenter of business innovation and entrepreneurship. Chris, Lyna, and Rippleworks are innovators, and their gift will inspire our students to creatively and strategically approach the business and tech landscapes to become the next generation of entrepreneurs and global business leaders."
For more information, contact:
Anjali Billa ( She/Her/Hers )
(415) 405-3625