Dennis O'Donnell (pictured above) is teaching in the Broadcast & Electronic Communication Art Department's Television Sports Reporting class
By Matt Itelson
Photos by Sreang Hok
This fall, Dennis O'Donnell appeared on-air on San Francisco State University's student radio station for the first time in decades. The broadcast journalist and San Francisco State Alumni Hall of Famer, a fixture on the Bay Area airwaves for four decades, sat behind a KSFS microphone alongside students as they all gave their takes on the day's top sports stories.
O'Donnell, the Emmy award-winning sports director at KPIX-Channel 5 in San Francisco, and his students were at ease discussing the 49ers, Warriors, and other trending topics.
Returning to campus this semester to teach the Broadcast and Electronic Communication Arts Department's class in television sports reporting, O'Donnell has come a long way since his undergraduate stint at KSFS. Back then, he got in trouble for refusing to play punk rock and for creating a contest for Rolling Stones tickets that the station didn't have.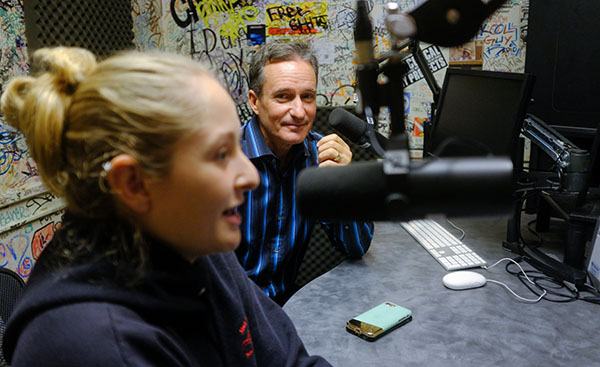 Dennis O'Donnell (right) listens to student Emma Malki (left) as she takes a call in the KSFS studio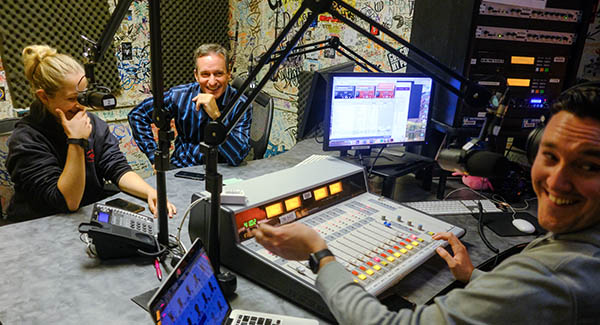 Student Emma Malki (left), Lecturer Dennis O'Donnell (center), and student Alexander Chase take a call in the KSFS studio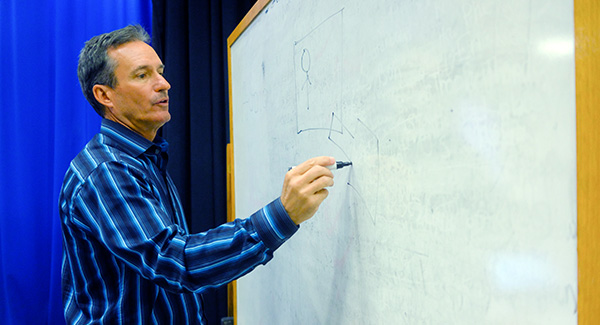 Dennis O'Donnell teaching television sports reporting at SF State
'You Gotta Bring It'
Although O'Donnell had no teaching experience, he jumped at the opportunity when Professor Emeritus Marty Gonzalez, a former colleague at KRON-Channel 4, mentioned it.
"What better place to teach than the place that taught me?" O'Donnell (B.A., Radio, and Television, '82) said of his new job. "I'm revisiting the basics of quality television that we sometimes take for granted and fall between the cracks."
Many of the class assignments involve producing various sports segments intended for local news programs. Students also get practice at the anchor desk. In one recent class, they read O'Donnell's top five sports highlights from the previous night's newscast.
O'Donnell offers instant feedback to his students with the energy of a football coach: "Good eye contact, enunciation, projection," he reminded them. "Sell the script to me. … There's nothing worse than dead air. … You're a showman. You're an entertainer. You gotta bring it!"
His nine students have enjoyed the class so far. They were already longtime fans of his work dating back to childhood.
"He is an expert in sports broadcasting. I remember him doing play-by-play for the 49ers in the preseason," junior David Griffith said. "He tries to see that we improve."
Graduate student Emma Malki enrolled not just for the practical experience that the class provides, but also because the instructor is a well-respected working professional.
"He can always come into class and talk about what he's doing in the field," said Malki (B.A., Communication Studies, '17).
"They're teaching me things as much as I'm teaching them."
-Dennis O'Donnell, lecturer
A Grateful Gator
O'Donnell has visited SF State often since he graduated. He has covered Gator athletics and spoken at events; he was MC of the ground-breaking ceremony for the new Liberal and Creative Arts Building last year. He is also an SF State Foundation board member, and he has made donations to the University.
With him in every class is a signed copy of "Video Basics 8," the influential textbook written by one of his mentors, SF State Professor Emeritus Herb Zettl. O'Donnell's goal for his students is to produce a professional-quality story that they can use to land an entry-level job. He hopes to continue learning from his students as well.
"They're teaching me things as much as I'm teaching them," he said.
For more information, contact:
Anjali Billa ( She/Her/Hers )
Associate Vice President of University Development
(415) 405-3625