Photo Credit: Photo courtesy of Emma Wakefield
Author: Matt Itelson
August 9, 2022
Emma Wakefield (B.A. '22) completed the mural, commissioned by the Lake County Arts Council, days before graduating
A new muralism class at San Francisco State University has already extended its reach far beyond campus, into rural Lake County. Utilizing both art-making skills and business savvy learned in the class last fall, a student won a grant to create a large mural honoring essential workers.
Emma Wakefield, 2020 recipient of the 1899 Founders Day Scholarship (awarded by the Alumni Association) and the CSU Future Scholars Program award (awarded by Financial Aid office) endured sweltering heat for a week to paint the Essential Workers Appreciation Mural, a project of the Lake County Arts Council. Days later, she graduated from San Francisco State with a bachelor's degree in Art and a minor in Education. Emma's ultimate career goal is to become a children's book illustrator.
The Lake County mural shows a child sleeping with a stuffed animal under a large quilt with images of first responders, a teacher, a power-line worker, a mail carrier, a grocery store clerk and others. The mural covers the full back wall of the Meals on Wheels Thrift Store in Lakeport, about 120 miles from San Francisco.
In researching the mural, Emma learned about the varied, vital roles of essential workers. "It was very, very cool to see all these people who were incredibly brave during [the pandemic] and willing to go out and continue their work and face the danger of basically a plague," she said.
The mural fits the overarching theme in all of Wakefield's art: finding beauty in daily routines. "I would like my art to be something that people know they can look at and get a warm feeling from," she said. "I want people to feel comfortable, to feel safe and to see the world through a new view. Something you do every day can be beautiful."
Wakefield says she wouldn't have thought to apply for the $8,000 grant if she hadn't taken the "Murals and Public Art" class, where lecturer Daniel Velasquez (B.A., '16) aims to impart far more than artistic techniques. He also provides students with an understanding of the entrepreneurial aspects of careers in the arts, including governmental funding and contract negotiation.
"Assignments are focused around real-world opportunities that they seek out, stumble into and create for themselves," Daniel said.
SF State was Emma's first choice for college. She was excited to move to an urban area. This shows in her "Sci-Fi in SF" series of drawings that reimagines the cityscape and SF State campus in a futuristic society.
"When I came to San Francisco, I was like, 'Whoa, there's a building taller than four stories! I was like, 'This is the future!'" said Emma, who grew up in Loch Lomond in Lake County.
She jokes that the entire Lake County population could fit in Oracle Park, the 42,000-seat home of the San Francisco Giants and the SF State Commencement.
"Attending San Francisco State, as a whole, changed my life," she added. "I met a bunch of people from different backgrounds and different cultures, talking with them and learning more about them — and seeing something outside from my very small town."
Below: Emma Wakefield's mural covers the full back wall of the Meals on Wheels Thrift Store in Lakeport, about 120 miles from San Francisco.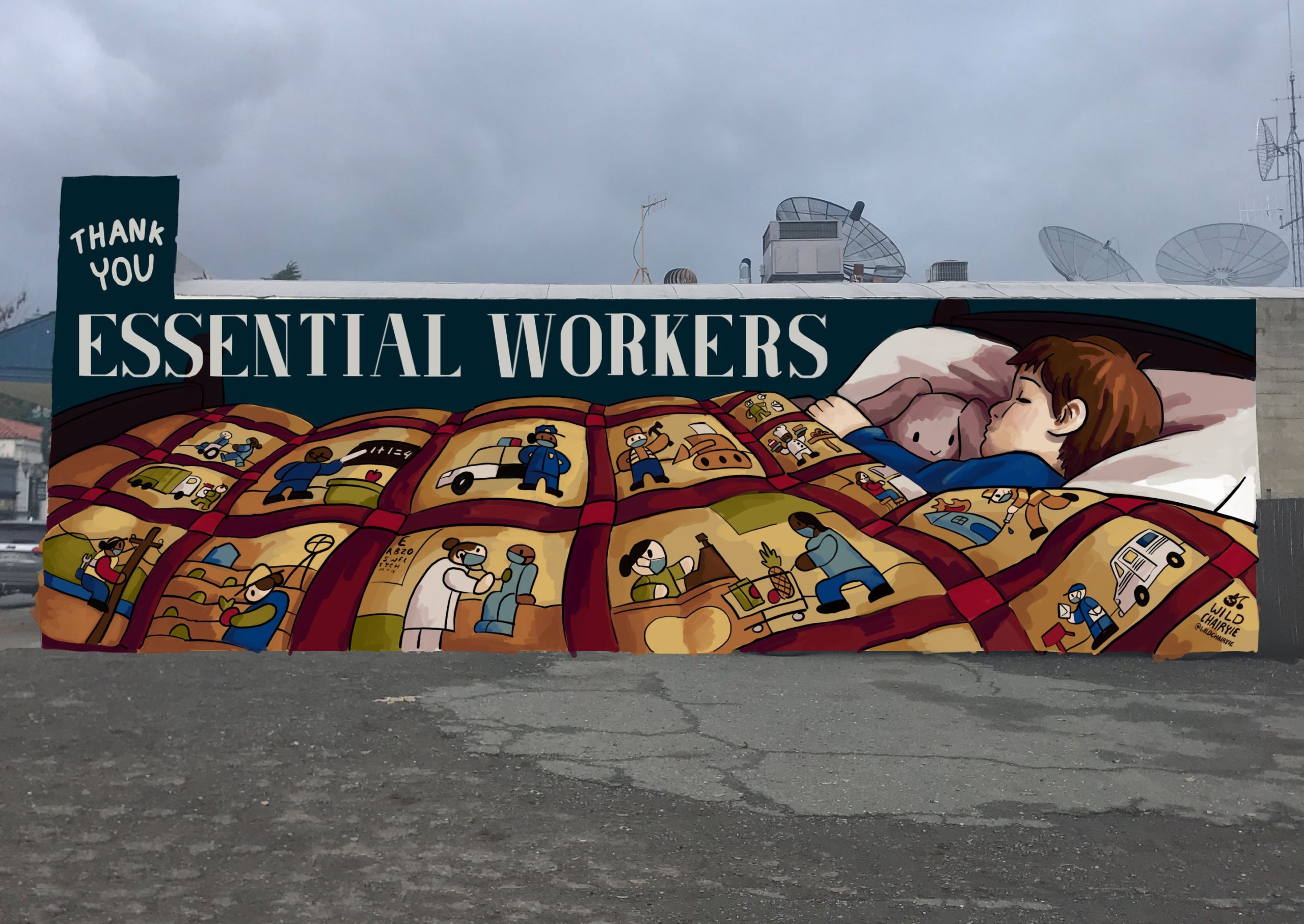 For more information about donating to the College of Liberal & Creative Arts, contact:
Amanda Todd ( She/Her/Hers )
Director of Development (Creative Arts)
College of Liberal & Creative Arts
(415) 405-3827