Waiting in HSS 107 for her early childhood classroom practicum to begin, Stephanie Estrada clutches an invisible steering wheel at her desk while her classmate Keila Hurtado quizzes her on driving-test questions. Estrada, an East Palo Alto native finishing her sophomore year in preparation for the child and adolescent development major, didn't get her license in high school when most of her peers got theirs. At the time, she had other concerns - her family had become homeless, and she struck out on her own so her mother could focus on three younger siblings.
High school became a refuge for the bright and talkative teen as she moved between friends and relatives, preparing to take on college. Yet when her financial aid package finally arrived, she learned it wouldn't cover all her college expenses. But a teacher at Palo Alto High School - the same one loaning her the car for the driving test - housed Estrada for the summer and set up a Go Fund Me site to raise the money she needed.
"I got $24,000 in 24 hours from all my teachers," she says. "That's why I want to be a teacher - to help other students." She adds, "That's why education is so important to me; it's something that can never be taken away from you."
Hurtado also feels a deeply personal, though different, connection to teaching. She remembers arriving from Mexico as a shy 5-year-old struggling with a new language and a new country. She noticed that teachers seemed to prefer interacting with certain children while casting others aside. "I remember every gesture teachers made, both positive and negative," she says, recalling hurtful slights she endured. "People think, 'Oh they're just little kids, they'll forget about it. But in reality, that's the time you take in everything." She wants to work with kids so she can be present for every child, dispensing the positive gestures she didn't always receive herself.
"The students are learning how to be a teacher in all of its aspects, from lesson planning to activity planning to interact with children to talking with parents."-Linda Platas
Both Estrada and Hurtado enrolled in the early practicum, CAD 215: Foundations in Early Childhood because it allowed them to follow up their interest with real preschool-classroom experience before committing to the major and the career track. The year-long experiential program in an SF State-led experimental iteration of Jumpstart, a national curriculum that allows college students to lead preschoolers through literacy activities. SF State's pilot is unique both for its focus on early literacy and math-based activities, and, just as importantly, for the experience it provides students. 
"The students are learning how to be a teacher in all of its aspects, from lesson planning to activity planning to interact with children to talking with parents," says Linda Platas, an assistant professor in the Department of Child & Adolescent Development (CAD) and the pilot's main architect. And her students, mostly freshmen, and sophomores, can apply to the CAD major and go directly into the profession while they finish their bachelor's degrees. "It's not just about helping young children with their literacy skills. It's about creating the workforce, supporting the [preschool] teachers and the students they work with, and doing it all with a wider developmental view," says Platas, who spent 14 years working as a preschool teacher before earning her Ph.D. at UC Berkeley.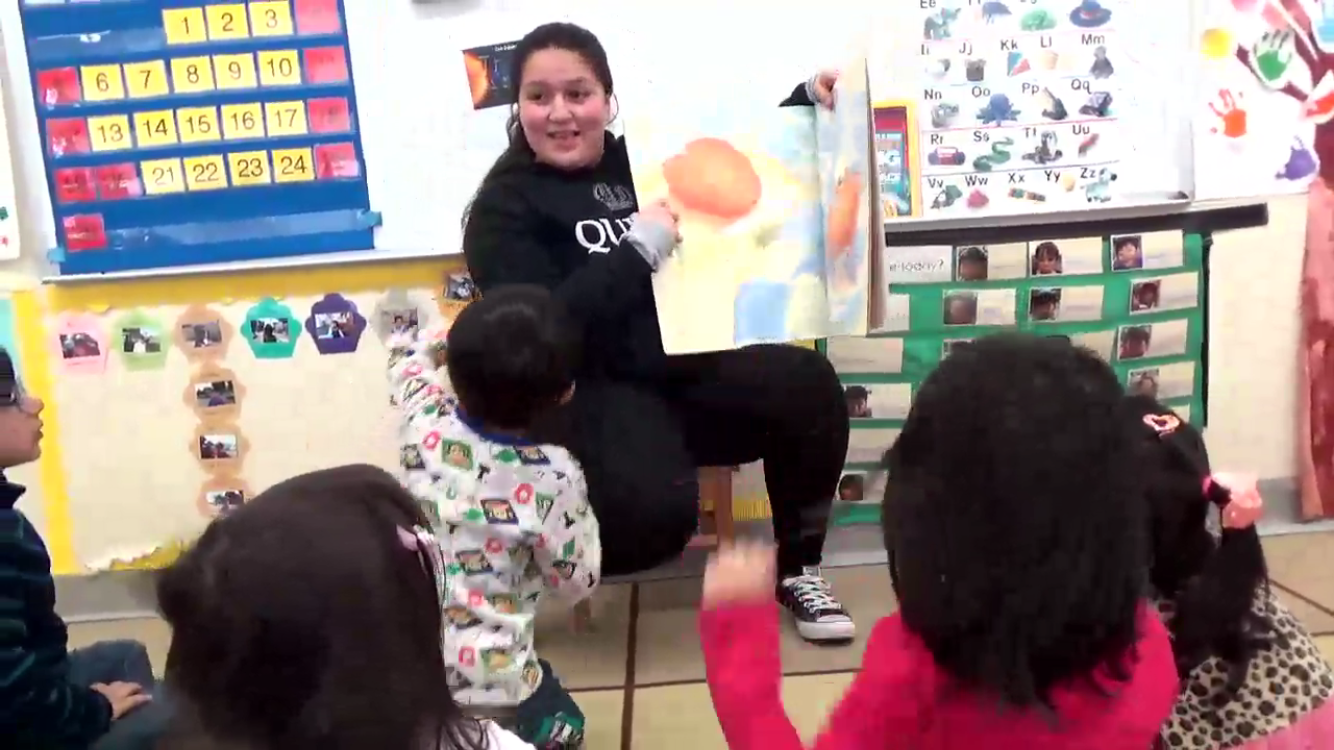 Stephanie Estrada works with preschool children
Math and more
That wider developmental view has its roots in a seminal 2007 study, which found that early understanding of math concepts predicts not only better math skills later on, but reading skills as well. SF State's pilot, launched by the CAD department in 2016, is one of just a few math-based early learning programs in California (along with Stanford and UCLA) to follow up on that study. 
"The best and richest activities have all the domains of learning - including language and literacy, science, mathematics, the arts, and social studies elements like understanding culture and communities," Platas explains, adding that elements like vocabulary and socio-emotional skills across all of the domains. "You're always going to be talking to the children and making sure your conversations are really rich no matter what topic you're discussing," she says, "and the game format helps students learn how to interact socially."
To create the early practicum, Platas leveraged the existing Jumpstart class, which already placed undergraduates in San Francisco preschool classes serving low-income kids, and expanded its developmental focus. The Dhanam Foundation provided funding for the pilot. Students were recruited both from the Metro Academy, a program that supports first-generation college students like Estrada and Hurtado, and students in CAD classes. Plata's secret weapon is a classroom coach, Christine Nevarez, who supports the students in the college and preschool settings, co-teaches with Platas, and enlists new recruits. 
Practicum students have experienced all that value in action. Noelle Akousa Dankwa Owusu, a rising senior, learned about the curse when Nevarez visited her education class. Hailing from a family of nurses in Temecula, near San Diego, Osuwu had been pre-nursing until she discovered she had little tolerance for blood. So when her interest turned to education, she especially appreciated the practicum's try-it-first opportunity. Once she started working with the kids, she knew she'd found where she belonged.
Over eight months, Owusu transformed from a nervous newcomer to a confident member of the classroom who is ready for the next challenge. "Problem-solving and seeing how the different kids learn and what keeps them interested...those are all tools I can use when I go on to another class or another site," she says.
And she's seen first-hand how the math games teach more than just math. One child, an English-language learner like many of the students at his Sunset neighborhood school, was shy and quiet — but she started doing shape activities with him, and he loved it. "He really liked the word 'hexagon' so I'd make sure to talk about it more," Owusu says. Soon he was greeting her at the door requesting to do the shape activity. And he was talking more. Now, she says, "He talks a lot. He's even a little bit of a smart-mouth — he's the sort of kid who constantly asks 'Why?'
"Problem-solving and seeing how the different kids learn and what keeps them interested... those are all tools I can use when I go on to another class or another site."-Noelle Akousa Dankwa Owusu
New pathways to training 
The practicum pilot complements a robust existing program in the CAD department that supports the early childhood workforce. Starting in 2012, the Promoting Achievement Through Higher Education program, or PATH, offers evening and weekend classes to help employed preschool teachers continue working while earning their bachelor's degree in child and adolescent development. PATH is also designed to bring a new and diverse group of upper-division undergraduates to the profession, according to Lygia Stebbing, who runs PATH under the umbrella of advance - a constellation of programs at SF State's Marian Wright Edelman Institute and in the CAD department that create pathways to a B.A. for early childhood educators. 
The partnership between Platas, PATH, the Dhanam Foundation, and Jumpstart made it possible to initiate the new early practicum — with its wider developmental focus than previous CAD practicums — as a pilot project in 2016. Besides providing freshmen and sophomores with classroom and teacher experience, the early practicum pilot connects them to the PATH program as upper-division students.
From the perspective of an early practicum student, moving right into PATH is an attractive option - a two-year graduation track with a guaranteed slot in classes. Owusu, who is continuing to PATH in 2017, appreciated not having to compete with a crowd of "crashers" all trying to get into the same required classes, but she also likes knowing exactly where she's headed. "PATH is super awesome because it gives you a path. It gives you milestones so you can see what's coming next. That's motivating," she says.
A success on many levels 
When Platas and Stebbing try to explain how all the programs and feeders and funders connect, they both start, stop, draw in a deep breath, and just say, "It's complicated." What is not complicated is how well the unified constellation of programs is working. 
"It's a huge success," says Stebbing. "One hundred percent of PATH students graduate in two years." And because they need to have a job to be in the program, PATH students have 100 percent employment, helped along by local agencies, who hand-pick PATH students for placement. And their students are staying in the field, Stebbing adds. "At least 50 percent are going on to get their master's." The early practicum alone has a 100 percent retention rate. 
Perhaps the greatest measure of success for a pilot is adoption, and Platas' year-long math-based early practicum is being fully adopted in FALL 2017 as SF State's only Jumpstart program. 
Owusu, Estrada, and Hurtado are case studies within the statistics. Deeply attached to her students, Hurtado feels called to a future as an educator and brings all she's learned to the kids in her East Oakland community. She ultimately decided that PATH's prescribed curriculum and late-night commutes weren't right for her, but she's sticking with the traditional CAD major. 
Both Estrada and Owusu have their PATH jobs lined up and credit the early practicum with inspiring them to plan for graduate school and other ways to elevate their education careers down the line. And both young women measure the success of the program not just by their employment, but also by the dedication and passion of the early childhood education community at SF State and across the city — a community that recognizes the transformative power teachers wield, starting with the youngest kids. 
"You don't know what the kids experience in their lives when they're not with us, so we give them us all during those hours we're together," says Owusu. "The time they spend with you should be meaningful."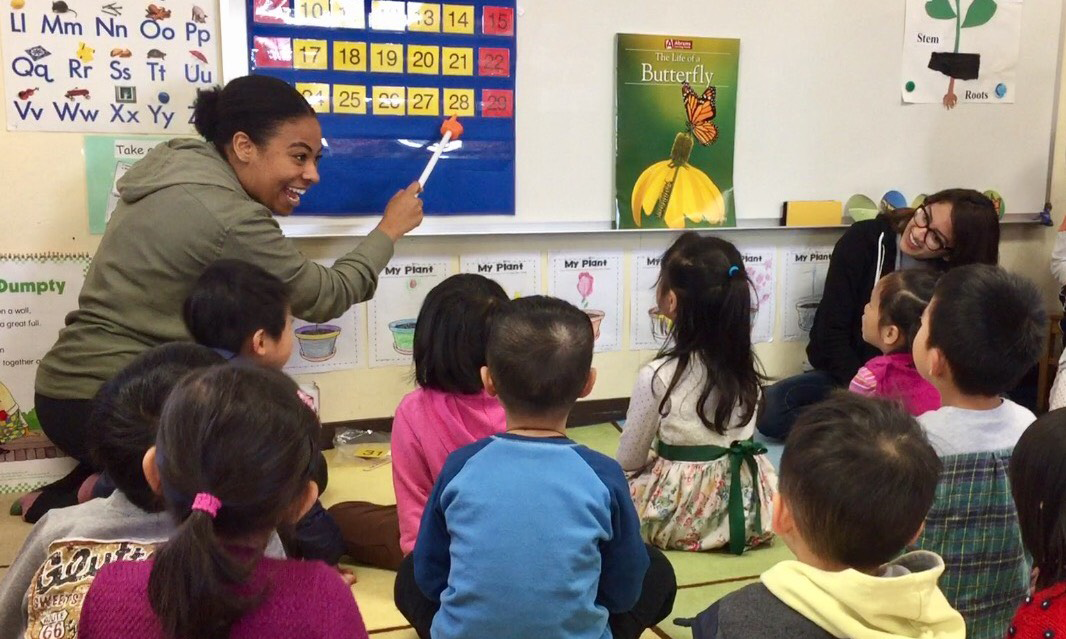 Noelle Akousa Dankwa Owusu (left) and Maria Olalde (far right) engage preschool kids in a learning activity
For more information, contact:
Mike Sullivant ( He/Him/His )
College of Health & Social Sciences
(415) 338-2647