by Matt Itelson
April 8, 2019
More than 200 scholars and artists from the U.S. and beyond gathered at San Francisco State during spring break to share new research and art about the Iranian diaspora from a variety of perspectives and national contexts.
Forty Years and More: International Conference on Iranian Diaspora Studies, hosted by the Center for Iranian Diaspora Studies from March 28 to March 30, marked the 40th anniversary of the Iranian revolution. Presentations and panel discussions investigated the ways that Iranians as exiles, immigrants, and as second-and -third-generation "hyphenated" citizens of their respective nations have met with both challenges and opportunities.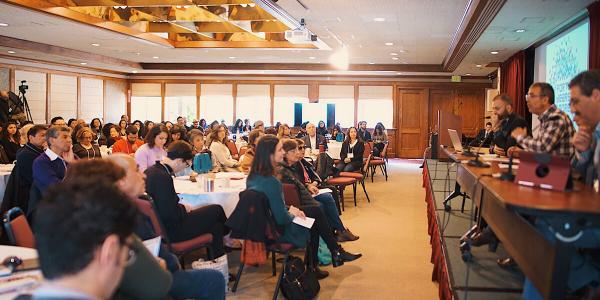 Panelists discuss research on Iranian diaspora communities on March 29 during Forty Years and More: International Conference on Iranian Diaspora Studies
The conference began with a reception at the San Francisco Arts Commission Gallery for Part and Parcel, an art exhibition examining geographies of belonging. Monica Chinchilla, the aide to San Francisco Supervisor Asha Safai, read a proclamation from the City and County of San Francisco declaring March 2019 "Iranian Diaspora Month."
The conference ended on an artistic note, with art, fashion, and music at the Minnesota Street Project Art Gallery in San Francisco where Once at Present, featuring 19 Iranian diaspora artists from the Bay Area, is on display through April 20.
Identity was a significant theme throughout the conference: "who we are, who we've become, and where we are going," said Professor Persis Karim, director of the Center for Iranian Diaspora Studies.
The conference came at a critical time, she added: "Immigrants and children of immigrants have been vilified and made to feel like others."
Conference attendees generated a social media buzz with hundreds of tweets using five different hashtags. Amy Malek, assistant professor of international studies at the College of Charleston, marveled at Neda Maghbouleh's "absolutely brilliant" keynote speech, which charted her own journey from her often-alienated childhood in Oregon as the child of Iranian immigrants. Maghbouleh eventually found her way to sociology and to the process of naming how that alienation came about, through her acclaimed book, The Limits of Whiteness: Iranian Americans and the Everyday Politics of Race (Stanford University Press, 2018).
"It's a rare talk that can bring scholarly revelations, much-needed critique, and tears of personal recognition," Malek tweeted. "She has given us a gift today. So much respect."
In remarks welcoming attendees, San Francisco State President Leslie E. Wong emphasized the importance of academic researchers sharing their findings with the public at large.
"You represent something of value that I think the world has to reacquaint itself with," he said.
The Center for Iranian Diaspora Studies, led by Professor Persis Karim, launched in 2017 with a $5-million gift from SF State graduate Neda Nobari. It is the first and only center of its kind at an academic institution. Drawing upon San Francisco State's robust academic foundation of ethnic, racial, and social justice, the center inspires interdisciplinary inquiry and exploration of the Iranian diaspora experience and its impact on transnational identity.
For more information, contact:
Bonnie Feinberg ( She/Her/Hers )
Senior Director of Development (Liberal Arts)
College of Liberal & Creative Arts
(415) 338-6363