By Steve Hockensmith
Rosana Fajardo (B.A., '15) says that the California foster care system used to have a clear message for the kids it serves once they reach the age of 18. That message, according to her: "Goodbye!"
Fajardo should know. She was in the system for five years, starting at age 13. Though California now allows young people to remain in the foster care system until they reach 21, many still find themselves lost and alone after they come of age. A University of Chicago study found that nearly a quarter of former foster care youth eventually experience homelessness while only 6 percent earn a college degree.
Fajardo beat the odds when she graduated from SF State. And she says she knows why.
"If it wasn't for Guardian Scholars, I wouldn't be where I am today," says Fajardo, who recently started a new job as a support counselor for foster care youth at the Seneca Family of Agencies. "It's been more than a program to me. It's like a family."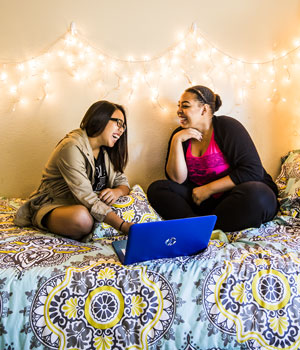 May De Luna and Andrea Gamboa are enjoying their first year at SF State in the tight-knit Guardian Scholars community. Photo by Eric Millette.
Since its launch 10 years ago, SF State's Guardian Scholars Program has helped 151 young people transition from foster care into college. Students accepted into the program don't just receive priority registration and help with housing. They're assigned case managers who monitor their academic progress, provide access to tutoring and mental health services, and coordinate job and internship opportunities that can pave the way to a successful post-college career.
"Our students come in with histories of trauma and abandonment that can affect their study habits and their ability to focus in class," says Guardian Scholars co-founder and director Xochitl Sanchez. "So having someone they can check in with who can put on that mental health hat helps them focus on all the strengths they bring with them. Despite everyone's individual personal history, I see the pride and a desire to succeed in their eyes. From their first contact with us, they know that they belong, and they can prove they're among the best and brightest."
The seeds for Guardian Scholars were planted in 2004 when Sanchez, then a pre-collegiate community partnership coordinator for the University's Educational Opportunity Program, met Associate Professor of Social Work Sonja Lenz-Rashid at a conference on foster care and higher education.
"Xochitl had worked with foster youth while doing outreach to middle schools and high schools, and I had worked in social work with foster youth in a direct-service capacity, usually with individuals who ended up homeless after they left foster care," Lenz-Rashid recalls. "So we said, 'Hey, we're both at SF State. Why don't we start a program to do something about this?'"
The first step was planning. Sanchez and Lenz-Rashid spent a year researching the needs of foster youth and how to meet them. They even hosted an informal symposium of foster care kids, bringing a group of them to campus to discuss the barriers standing between them and higher education.
"I remember we talked about making sure that housing was always available because that is huge for many foster youths," says Sokhom Mao, who attended the brainstorming meeting while still a high school student in the foster care system. "During the holidays or the winter break they might not have anywhere to go, and you can't just put them out."
Not long afterward, a $450,000, three-year grant from the Stuart Foundation helped launch the Guardian Scholars Program as an independent nonprofit on campus. To this day, the program relies entirely on donations and grants to cover its budget each year. When the first cadre of Guardian Scholars students came to campus, Mao was one of them.
"I would never have graduated from SF State without the support of Guardian Scholars," says Mao, who earned a criminal justice degree in 2010. "The staff are very hands-on, very involved in the students' experience."
That hands-on approach — Lenz-Rashid, and Sanchez call it "a high-touch model of service" — extends beyond tutoring, counseling, and assistance with year-round housing. The Guardian Scholars staff tries to provide the kind of everyday support most students would get from a family.
"Fresh towels and new dishes and school supplies — they help with all that stuff," says Fajardo. "If you need transportation, they might give you some coins for the Muni, or if you need a new notebook they'd get that for you. Whatever it was, they were there to help."
"The most traumatic thing about being in foster care was feeling like an outcast. Like you don't have anyone there for you," says Gabriela Marin, a current Guardian Scholars student who plans to graduate with a degree in health education next year. "But I know Xochitl and the caseworkers have my back. Pretty much anything I could possibly need, they've been right there for me."
And it's not just Guardian Scholars staff members who are there for students. The program works on a cohort-based model: Incoming students live together at SF State during their first academic year, giving them the chance to create a new, peer-based support network.
"I wasn't looking for friends in college. I was just there to get my degree," says Stephanie Monroe, a Guardian Scholars student in her third year at SF State. "But then I met so many people through Guardian Scholars who have the same experiences as me. It's been really easy to find great friends who are successful students and strong, persevering people."
"You're in a program with others who experienced similar hardships, and that makes for a deep connection," says Mao, who currently serves as chairman of the Oakland Police Board and recently completed a four-year term on the Alameda County Juvenile Justice and Delinquency Prevention Commission. "I have Guardian Scholars friends who are like family to me. That really helped when I was at SF State, and it continues even when you leave the program. I'll have that support forever."
When Joseph Hui (B.S., '89) saw a San Francisco Chronicle story about the Guardian Scholars Program a few years ago, he wasn't just proud of his alma mater. He was determined to help give foster care youth a helping hand.
"As soon as I saw the article, I was like, 'Oh, man — I have got to get involved with that," Hui remembers. Hui felt an immediate connection with the students in the Guardian Scholars Program because, like them, he spent much of his childhood in foster care.
"I wish Guardian Scholars had been around when I was at SF State," he says. "I was flying by the seat of my pants, and it would have made things a lot easier."
Now a software designer at Oracle, Hui knew just how to make life easier for Guardian Scholars students. He also heads Adopt-A-Family Bikes, a charity that distributes free bicycles to needy families throughout the Bay Area. Hui asked for the names, genders, and heights of anyone in the program who needed a bicycle and then found a match for everyone. Since then, Adopt-A-Family Bikes has given more than 100 bicycles (along with helmets and knee pads) to Guardian Scholars participants.
"When you're a foster kid, every possession that you have is very valuable, and having a bicycle through my college years was very important to me because it allowed me to get to class and my job," Hui says. "So being able to give that back to these kids now — it's phenomenal."
For more information, contact:
Anjali Billa ( She/Her/Hers )
(415) 405-3625