Pictured is an Indigenous carving of a polar bear from the Global Museum
San Francisco State University's Global Museum Climate Stories exhibit is now online! Climate Stories, originally a live exhibit in the museum's galleries on campus, explores the impacts of climate change on indigenous communities across the globe and highlights actions that combat climate change that is being taken now, including on the SF State campus. Divided into four themes (connections to the ocean, relationships with wildlife, the power of plants, and adapting tradition), this exhibition reveals ways that communities are responding and adapting to changes in both culture and environment. Objects include stunning items from the Global Museum's collections alongside loans from the California Academy of Sciences, Harry D. Thiers Herbarium at SF State, and more.
Climate Stories can be viewed at: https://museum.sfsu.edu/exhibit/climate-stories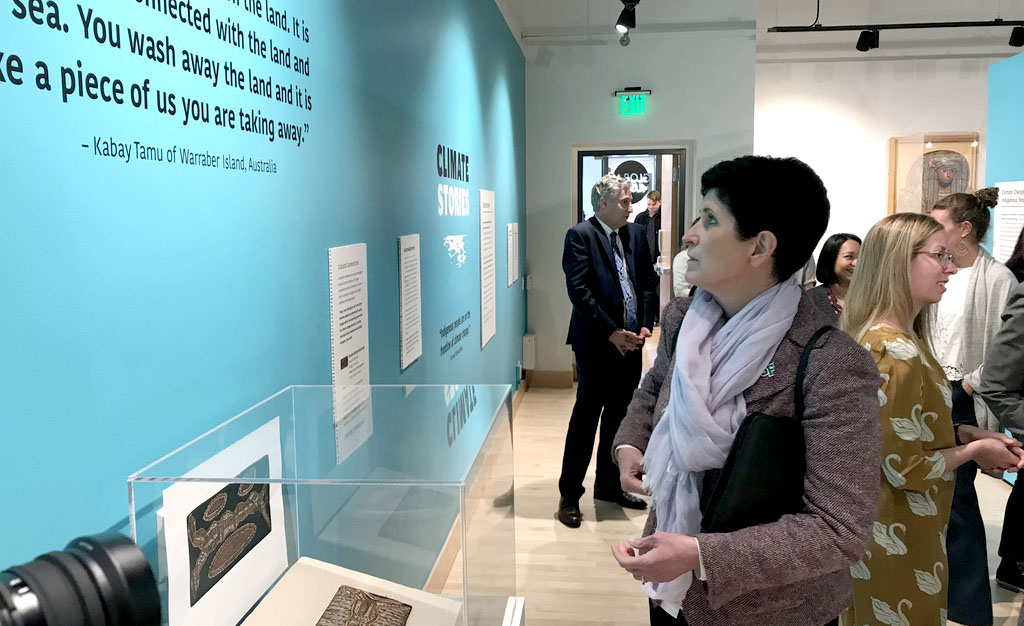 SF State President Lynn Mahoney, Ph.D. at the Climate Stories opening event on Oct. 1st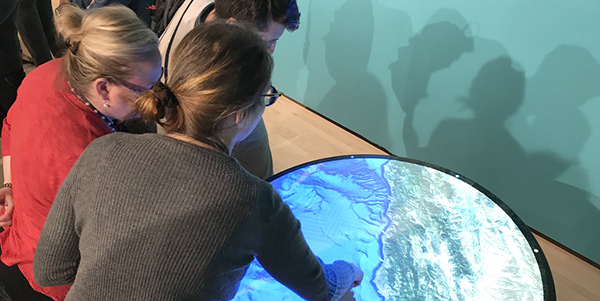 An exhibit at the Climate Stories show at SF State's Global Museum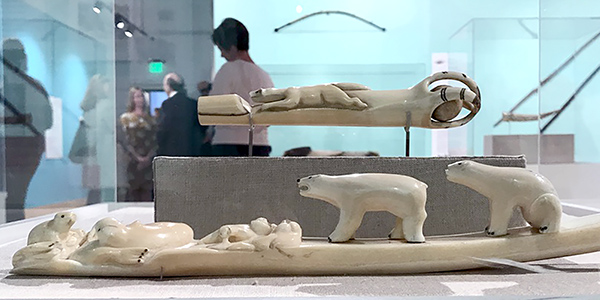 Carved polar bear art at SF State's Global Museum Climate Stories exhibit
The Global Museum
Opened in April 2018, the Global Museum at SF State is a place in which to appreciate the power of diverse communities in a globally connected world.
In 2014, the Museum Studies Program closed its gallery in the Humanities Building to reorganize and move the collections to new spaces in the Fine Arts Building, which include a new exhibition gallery, a state-of-the-art collections preservation facility, and a teaching classroom and digital lab. This reorganization led to the establishment of the Global Museum, a university museum that serves as a teaching lab for the Museum Studies program, an academic resource for the university, and a public space for the greater Bay Area community.
Mission
The mission of the Global Museum is to serve as a responsible steward of cultural heritage, a place of scholarship, community, and engagement, and a space in which to appreciate the power of diverse communities in a globally-connected world. The Global Museum creates experiences that foster life-long learning, collaboration with and among diverse communities, and reflection about global society and our common humanity.
Vision
The vision for the Global Museum is to serve as a vibrant place of education, an emerging center of the community, and as a steward of the world's irreplaceable cultural collections. The Global Museum will also be a place of learning that reflects and models highly ethical, community- and educationally-focused museum practice; supports active visitor engagement with long-standing and newly emerging challenges, and fosters outward-looking community involvement. We believe that museums, in addition to focusing on the past, can play a transformative, future-oriented role in our globally-connected society.
Programming For All
The Global Museum houses outstanding permanent collections from Africa, Asia, Oceania, and the Americas, and uses family- and student-oriented exhibitions as the basis for innovative educational programming for SF State, the extended San Francisco community, and Bay Area school districts. Students in the undergraduate Minor and the graduate Master's programs in Museum Studies, as well as volunteers from other departments on campus, are involved in all aspects of museum operations. Contact us if you'd like to be a volunteer!
The Global Museum is an institutional member of the following organizations:
American Alliance of Museums (Tier III Member)
California Association of Museums
Association of Academic Museums and Galleries
Cultural Connections
For more information about donating to the Global Museum, contact:
Anjali Billa ( She/Her/Hers )
Associate Vice President of University Development
(415) 405-3625