Pictured above is the 2019 cohort of undergraduate Marcus Research Awards winners
By Jamie Oppenheim
San Francisco State University junior Anucha Poh Maga has a great idea that could change the world: a conversion kit that would allow anyone with a motorcycle to easily transform it into a hybrid vehicle. The design student is developing a prototype that would work with the world's most mass-produced motorbike, the Honda Super Cub.
"We're seeing a projected shortage in fossil fuels, so this would be a stop-gap measure between fossil fuels and fully electric vehicles," Maga said.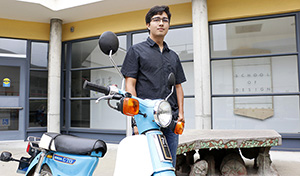 SF State student Anucha Poh Maga plans to create a hybrid conversion kit for the Honda Super Cub as his research project for the Marcus Undergraduate Research Fellowship
That might seem like an ambitious vision, but Maga's project is getting a turbocharge from an exciting new fuel source of its own: $3,000 from the recently launched Marcus Undergraduate Research Fellowship. The fellowship — for undergraduates in San Francisco State's College of Liberal & Creative Arts — was made possible by the George and Judy Marcus Funds for Excellence in the Liberal Arts, which was established with a $25 million gift from alums George and Judy Marcus in November.
A panel of faculty experts chose Maga and nine other fellows for the inaugural awards, with projects including a documentary on transgender representation in film, a photography exhibit about climate change, and an ethnographic study of the veteran experience at SF State. Students will work closely with faculty mentors over the coming academic year to complete their projects and then present them in some fashion at the end of the Spring semester. 
"The projects are a real reflection of the social justice values of San Francisco State," says Associate Dean of the College of Liberal & Creative Arts Troi Carleton, who oversees the grant program with faculty coordinators Joshua Singer, associate professor of Design, and Anastasia Smirnova, assistant professor of English.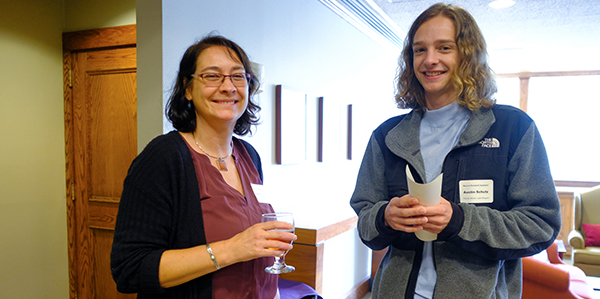 Marcus Award-winners Associate Professor Leah Wingard (Communications Studies) and student Austin Schutz will be studying the difference between teasing and bullying in the project, "Is It Teasing or Bullying? Interactional Practices and Blurry Lines"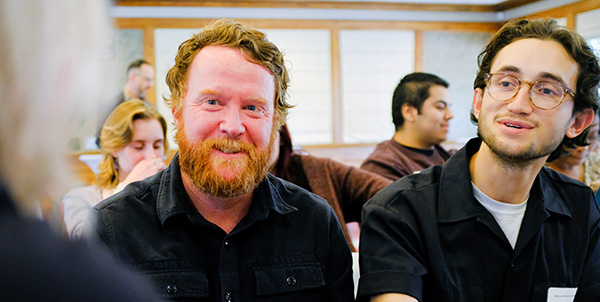 Associate Professor Sean MacFarland (left) (Art) will be mentoring Marcus Award fellow Duriel Meisner (right) in the project, "Potential Wilderness", a photographic body of work that seeks to visualize human relationships with the environment in a way that subtly elicits curiosity from the viewer
The fellowship is only a part of the student research opportunities made possible by the George and Judy Marcus Funds for Excellence. Five students were also chosen for the Marcus Undergraduate Assistantship grants, which kick off this fall. Students will assist faculty members with their research on topics ranging from presidential agenda-setting to the differences between teasing and bullying.
"The idea behind the research assistantship grant is that students will be doing more than just data entry for faculty mentors," Carleton said. "They will be contributing to these collaborative projects in substantive ways as they learn how to conduct meaningful research in their respective disciplines."
These new opportunities are part of a push within the College of Liberal & Creative Arts to expand research opportunities to more undergraduates. "If we want to encourage a culture of research and we want students involved in research early on then we have to provide them with real opportunities," Carleton said. "We're hoping to take the mystery of research and democratize it so it feels like an opportunity for everyone in the college."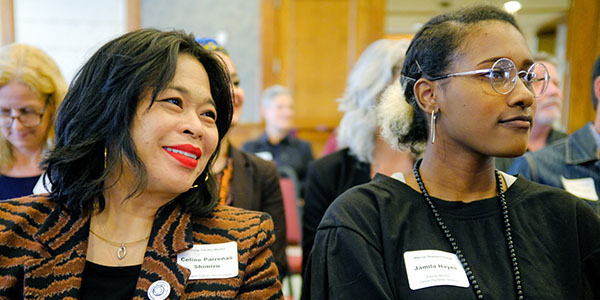 Cinema Department Chair Celine Parrenas Shimizu (left) will be mentoring student Marcus Fellow Jamila Hayes in her project, "The Value of Life", which is an in-depth personal exploration of the "Black condition"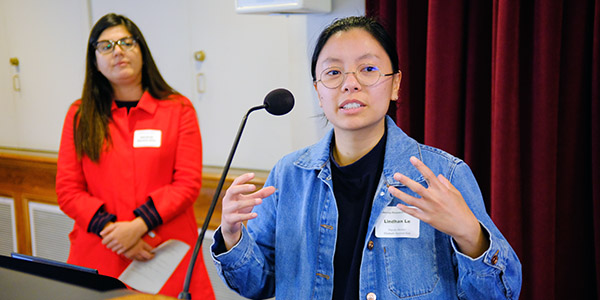 Assistant Professor Elizabeth Ramirez-Soto (left) (Cinema) will be mentoring Marcus Fellow Lindhan Le (right) in the project, "Gender's Corporeality: Deconstructing Trans-Boundaries in Cinema". The project will explore the ways in which transgender bodies have been represented in cinema
Dean of the College of Liberal & Creative Arts Andrew Harris says his own undergraduate research experience was incredibly meaningful. "It opened my eyes to the empowerment of intellectual discovery and the confidence that comes from great mentoring," he said. "This extraordinary gift allows us to provide that experience to our students at San Francisco State University, and to make such mentoring more possible and more meaningful for our faculty."
The George and Judy Marcus Funds for Excellence will also fund faculty research, student scholarships, events, improvements to the college's facilities, such as renovations to the Coppola Theatre, and two endowed faculty chairs each for the Department of Creative Writing and the School of Cinema. "By supporting student and faculty scholarship, these funds make possible the fulfillment of the University's mission of access and excellence to the highest degree," Harris added.
For more information about donating to the College of Liberal and Creative Arts, contact:
Amanda Todd ( She/Her/Hers )
Director of Development (Creative Arts)
College of Liberal & Creative Arts
(415) 405-3827
Bonnie Feinberg ( She/Her/Hers )
Senior Director of Development (Liberal Arts)
College of Liberal & Creative Arts
(415) 338-6363