Pictured is Professor Doug Bailey giving a talk at the International Museum of Contemporary Sculpture in Lisbon, Portugal. Photo courtesy of Doug Bailey.
By Matt Itelson
Anthropology Professor Doug Bailey destroyed more than 1,200 transparencies from SF State archives, and he is proud of it. He culled 35-millimeter images from decades-old research projects that are now considered unethical — studies of ethnicity, sexuality, animal dissection, and human reproduction — and soaked them in diluted sodium oxychloride.
It is part of Bailey's efforts to create a new discipline, art/archaeology. In early March, just as the COVID-19 crisis hit, he made a splash at the International Museum of Contemporary Sculpture in Lisbon, Portugal, with the exhibition "Creative (un)makings: disruptions in art/archaeology." An academic conference accompanied the exhibition; a catalog and book are coming soon.
Installations included Bailey's own creative political work, "Releasing the Archive," and "Ineligible," composed of sculptures made from archaeological remains excavated during the construction of San Francisco's new Transbay Transit Center. Bailey curated the exhibit with University of Lisbon Professor Sara Navarro. Art Assistant Professor Ilana Crispi contributed a piece to "Ineligible."
SF State's George and Judy Marcus Funds for Excellence in the Liberal Arts and College of Liberal & Creative Arts faculty travel fund helped support the project.
Bailey boasts that his subversive approach is a "violation of curators' standards of care" and "the normal rules that museums, universities and cultural institutions must obey when they preserve and protect objects and images."
In "Releasing the Archive," Bailey dissolved transparencies held in collections from SF State's now-defunct Adan E. Treganza Anthropology Museum. The images on the transparencies consisted of animal dissections, graphic drawings and photographs of human reproduction and female anatomy, fossilized human skulls and casts of skulls, ethnic profiling, animals in captivity in zoos and game reserves, and ethnographic field photos.
Transforming ethically questionable materials into art stimulates debate on issues of museums, archives, material culture, and human rights, Bailey said. "Why do we assume that prehistoric, ancient, or historic objects — artifacts if you wish — have an intrinsic value based on their age, and what happens if we undermine that assumption?" Bailey said. "How do we ethically release objects and images from museums and archives, particularly when those objects and images were unethically obtained (by ethnographers, anthropologists, archaeologists, and collectors) and when they have been trapped in institutional and private collections. … There is no 'correct' answer to the question of what do we do in these situations."
Responses to the exhibition and Bailey's lectures on art/archaeology have been largely supportive, but have also elicited outrage, he said. "At one talk at Berkeley, a member of the audience stood up, shouted at me, and stormed out," Bailey said. "At another talk in Oslo, a photographer was on the verge of tears."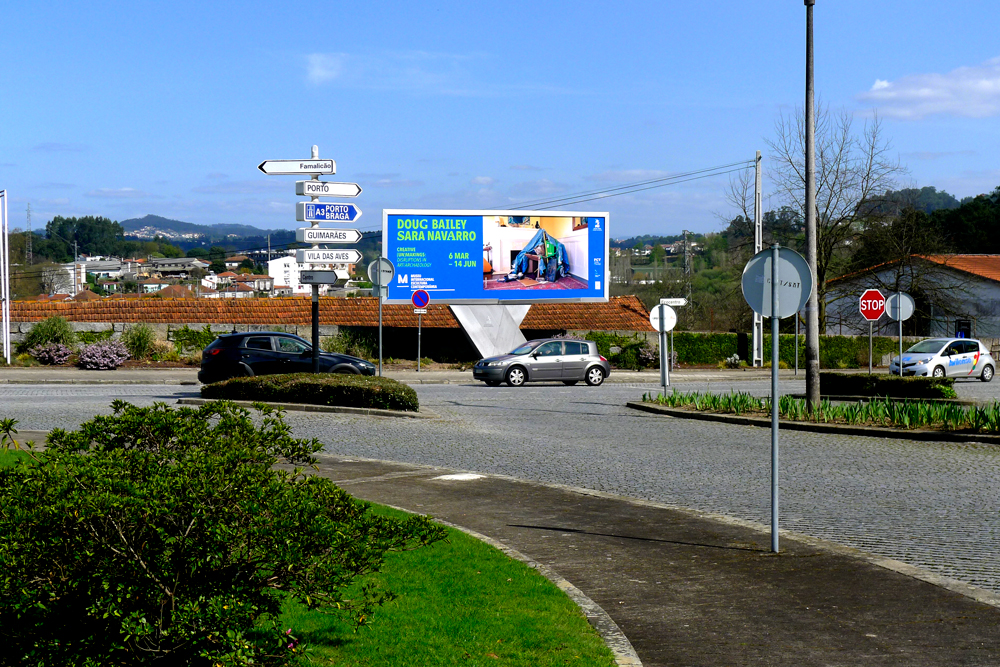 A billboard in Portugal announces Doug Bailey's exhibition "Creative (un)makings: disruptions in art/archaeology," co-curated with the University of Lisbon Professor Sara Navarro at the International Museum of Contemporary Sculpture in Lisbon, Portugal
Bailey tested positive for novel coronavirus after returning from Portugal on March 12. He has continued to teach while in self-quarantine at his home. As he is deeply concerned about his colleagues, he hopes the University will devote more resources to their physical and mental health.
"We have done such a high-energy and necessary job supporting our students, delivering curriculum, rejigging our teaching and advising," said Bailey, who joined SF State in 2008. "Something is going to break. It may be us.
"More positively, I have realized (again) how lucky and grateful I am to work at SF State, to collaborate with my colleagues, and to work with our students," Bailey added. "We are all lucky. We work our butts off, but we are lucky. So many people are in far worse positions economically. The families who have lost loved ones. Those who have lost jobs. I recognize how lucky I am."
For more information about donating to the College of Liberal and Creative Arts, contact:
Amanda Todd ( She/Her/Hers )
Director of Development (Creative Arts)
College of Liberal & Creative Arts
(415) 405-3827