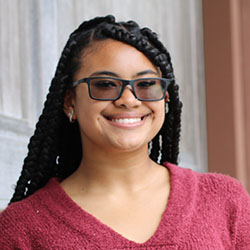 Above: Makayla Wai-Lan Scott (center) with classmates Kenya Salgado (left) and Citlalli Aguilar Velazquez (right) in front of Terra Nova High School, where they gave a presentation to high school students
Based on an original story by Anastasia Garcia | Reprinted from the College of Health & Social Sciences webpage and revised by University Development
"I don't like to gamble but if there's one thing I'm willing to bet on, it's myself." This quote by Makayla Wai-Lan Scott's childhood idol Beyoncé is one that Makayla likes to use as a reminder to herself when she feels uncertain. While completing her nursing prerequisites, Makayla had some anxiety about being accepted into the Nursing program, which has few spots and many applicants. To quell her anxiety, she looked at other majors she could pursue instead, and found herself drawn to Public Health and health education. To her surprise she found a new passion and, betting on herself, she decided to switch majors. "Health has always interested me, and I have always wanted to help people," says Makayla, a native San Franciscan. "With health education, I want to be able to educate my community on issues we face and on the ways we can improve."
In 2021, the scholarship committee for the Jack R. and Marjorie Fraenkel Scholarship took a gamble on Makayla as well, awarding her a $1,000 scholarship. The fund is an endowed scholarship created by Dr. Jack R. Fraenkel (M.A., '65) and his wife Marjorie Fraenkel after Dr. Fraenkel's retirement as Professor of Interdisciplinary Studies in Education in 2011. One of the prerequisites of being awarded the scholarship is that a student awardee be involved with their community, which Makayla is on many counts. One standout is her work during the pandemic in starting a nonprofit organization with her friends called All for One: Success in Advocacy. All for One's mission is to connect San Franciscan youth with educational resources within the city. The group creates content based on their knowledge of various current issues and tries to model ways that youth can get involved with topics like Ethnic Studies and voting.
Given her background, it is no surprise that the social justice aspect of public health appealed to Makayla. In the Public Health program, students are taught to look at health equity through an intersectional lens, which aligns with her own values. Makayla is especially motivated to work with high school students to help them talk about health in a way that resonates with them.
Starting the Public Health program during the pandemic was a unique experience. Public health was of major importance and her family experienced financial strain, which increased the need for scholarships to continue her education. In addition to the Fraenkel scholarship, Makayla was awarded a $500 University Scholarship in spring 2020.
Makayla appreciated the interactive aspects of many of her Public Health classes and felt that the professors in the Public Health program were passionate about the subjects they taught.
In 2022, SF State helped her obtain an internship at the Daly City Youth Health Center, which provides medical, mental, and support services for teens and young adults. Makayla worked on a project to create a curriculum for middle and high school students about vaping, which had personal meaning for her: "I saw a lot of my friends turn to vaping to cope despite knowing about the effects."
Makayla is enthusiastic about her time at SF State: "I feel like I am actually cared about at SF State. That came from making the connections that I did…with my advisors and people in the Public Health cohort."
For more information about donating to the College of Health & Social Sciences, contact:
Dafna Kapshud ( She/Her/Hers )
College of Health & Social Sciences
(415) 338-7112