SF State's Forensics team (pictured above) celebrates recent wins: (top row) Oliver Tripp, Dr. Teddy Albiniak (middle row) Patrick Ford, Nico Petricari Pesci, JP Escarcega, Victoria Meuter-Montijo, Erick Peraza, Juan Millan, Zachary Waters (bottom row) Miranda Pokorny, Dan Gabis, Sabrina Ghidossi, Komal Virk, Gabriella Proxmire, Philip Enguancho, and Juan Campbell.
By Kyle Hoctor
Forensics, San Francisco State University's speech, and debate team scored major wins in this year's fall season of competition. The team, part of the Department of Communication Studies in the College of Liberal & Creative Arts, placed first in four events at the 11th Annual Golden Gate Season Opener debate match. The match is the largest intercollegiate forensics tournament in the Bay Area and was hosted at SF State. In addition to the four first-place wins, SF State students took home one 2nd place win and three 3rd place wins.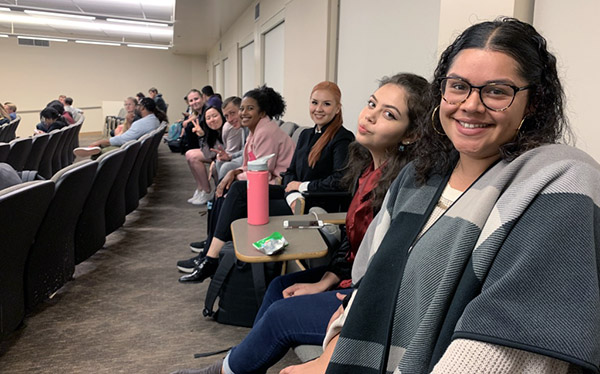 Forensics team members (left to right) Valaree Cech, Suzee Kwon, Zachary Waters, Elicia Locke, Victoria Meuter-Montijo, Gabriella Proxmire, Adriana Tobar
Thanks to the guidance of Director Dr. Teddy Albiniak, SF State's Forensics program has been sweeping competitions in the Bay Area for several years, including an impressive victory over Harvard University in 2016. Forensics, available as a class (Communication Studies 368) to students from across campus, offers students the opportunity to hone their communication skills in an encouraging environment.
Forensic students come from diverse cultural backgrounds and majors and often have no prior debating experience. Their differing experiences contribute to a supportive environment where students understand that their unique perspectives contribute to the strength of the team. Teddy illustrates an example, "Last week I heard a student talk about space from an experimental math and physics perspective, and another student contributing to the conversation from a cultural-studies understanding of race. Our students tend to see farther ahead because of their situations in the world and are able to articulate that into advocacy. It's a way of understanding social justice in embodied practice, and when you combine that with the exceptional training from the coaches, it's a recipe for continued success, growth, and reinvention."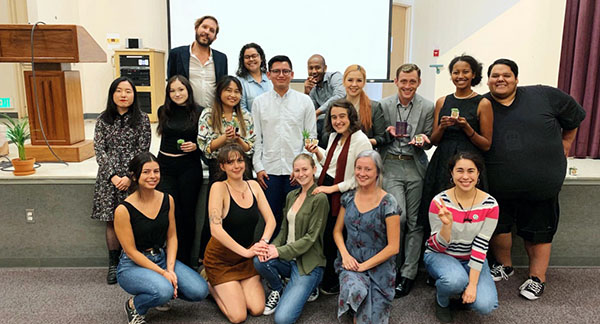 (top row) Dr. Teddy Albiniak, Adriana Tobar, Patrick Ford (middle row) Suzee Kwan, Raquel Robeson, Dan Gabis, Erick Peraza, Victoria Meuter-Montijo, Zachary Waters, Elicia Locke, Pablo Ramirez (bottom row) Katelyn Gonsalves, Olivia Flickinger-Renzi, Sabrina Ghidossi, Jillian Koons, Madison Ryan
(left to right) Nathan Lawless-Steele, Sage Russo, Dr. Teddy Albiniak, Lindsey Ayotte
Many students find that competing with the Forensics team has a surprisingly large impact on their lives and education. "Watching the transformation that happens to students, even to those who compete for just one semester, is tremendous," says Teddy, who also coached the team while a graduate student. "I believe it happens in three areas: receiving a base knowledge of the world, a deep confidence in one's own ability to advocate for oneself, and a true commitment to the community. Those are things that one just can't learn in one individual classroom, but that all come together on our team."
In a time when public arguments and debates can easily slip into harmful rhetoric or untruths, the lessons learned by students on the Forensics team seem particularly vital and relevant. "I really liked the culture and ideologies on this team," enthuses SF State student Philip Enguancho. "Particularly the interest in social justice, and thinking critically about the world around us."  
"There has been no other activity outside or inside a classroom that has truly brought me to the person I am today, as well as teaching me how to stand up for myself and others. Forensics completely changed my worldview."
-Virginia Kerr (B.A., 2019)
Forensics is a tremendously popular program, with the 45 available seats filling up quickly each semester. Teddy's goal is to give each student the opportunity to compete in public meets, and while the University supports the Forensics program, students sometimes get left behind because travel funds are limited. "Donations we receive go to supporting tournament registration fees, transportation, food, and lodging," says Teddy.
The personal costs of traveling to tournaments also keep some students away. "A lot of our students have food insecurity, including many that work," says Communication Studies lecturer and Forensics head coach Pablo Ramirez. "Sometimes they can't afford food and that will then cause some students to just simply not go."
To Teddy, making Forensics available to students, training them, and enabling them to compete is a personal mission. His goal is to sustain the program so that it can touch more students in the same way it touched him: "This program transformed my life, I would not be the person that I am today had it not been for Forensics at SF State. This isn't just a job for me, I think it is the most purposeful thing that one can do, which is to continue to carry on the legacy that has transformed me, and so many people I know and love."
For more information about donating to the Forensics Program, contact:
Bonnie Feinberg ( She/Her/Hers )
Senior Director of Development (Liberal Arts)
College of Liberal & Creative Arts
(415) 338-6363