Many of us have had the good fortune of having a doctor who made us feel special the moment they walked into the room. A skilled physician who clearly enjoyed and cared about connecting with and healing patients. By all accounts, Dr. William Kennett was that kind of doctor. 
At the beginning of his career, Dr. Kennett chose to specialize in obstetrics and gynecology. He called his work the "happy side of medicine" because he loved to deliver babies, which he did more than 6,000 times during his career. Most of those babies were delivered at Sequoia Hospital in Redwood City. Over the years Dr. Kennett became a fixture there, and in 1984 he and his wife Mrs. Gloria Kennett created the Sequoia Hospital Foundation. Dr. Kennett remained involved with the Foundation, which supports patient care and programs at the hospital until he passed away in 2004.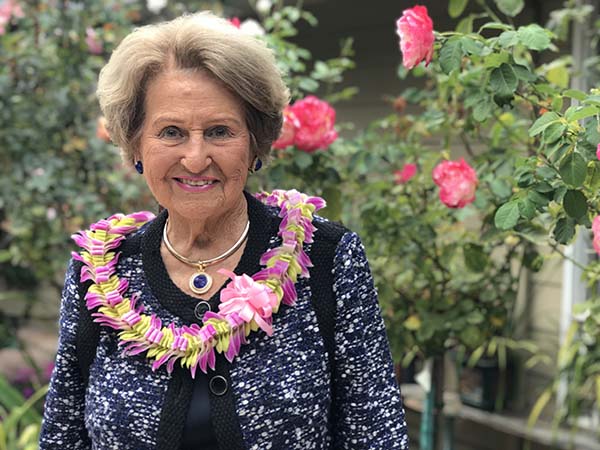 Mrs. Gloria Kennett
"The Kennett Program has given me the opportunity to fulfill myself while helping others. I am grateful for that gift."-Mrs. Gloria Kennett
Dr. Kennett's death was devastating to his family and to the Sequoia community. After his passing, Mrs. Kennett and JoAnn Kemist, a former president of the Sequoia Hospital Foundation, began discussing opportunities to honor him. "When JoAnn mentioned the idea of a nursing scholarship to me, I jumped on it. I had lost my husband and I needed to do something positive and to experience something valuable," says Mrs. Kennett. 
The two women began to work with the School of Nursing at San Francisco State University, one of the only large nurse training programs in the area. A program to support nurses seemed like a perfect tribute to Dr. Kennett "Bill had tremendous respect for good nurses." Says Mrs. Kennett.  "Each patient was extremely important to him, and if he left them in somebody's hands, he wanted to know that they'd be well taken care of." 
Mrs. Kennett was aware that many SF State nursing students were facing financial challenges, so she devoted the new Dr. William Kennett Memorial Nursing Scholarship Program to help provide scholarships to nursing students at San Francisco State University. At first, she was not sure where to turn for donations. Eventually, she decided to write donation request letters to the people who attended Dr. Kennett's funeral. That first year, Mrs. Kennett raised $12,500 which paid for one scholarship. The money was awarded to Aaron Eigenmann, a student who pursued a nursing degree after a tour of duty in Iraq as a U.S. Marine.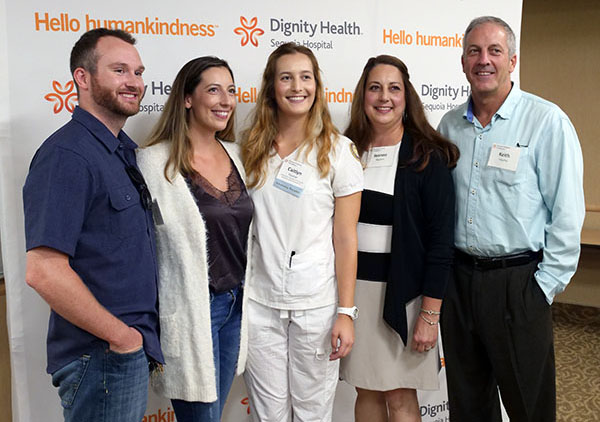 Caitlyn Hipsher, 2018 Danford Foundation/Pete Uccelli Memorial Scholarship Recipient and family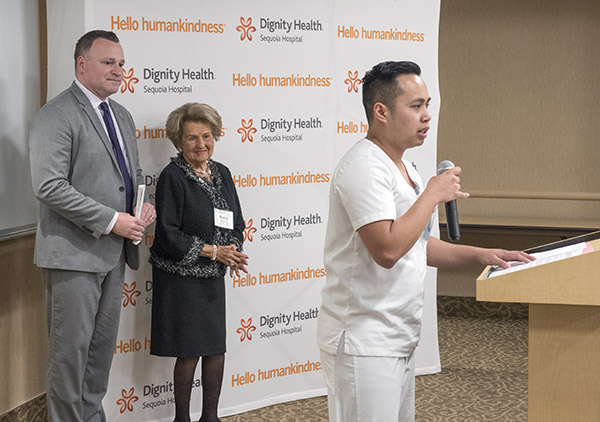 Nerio Soliven, 2018 Kennett Memorial Scholarship recipient
In the past 13 years, the fund has grown exponentially, largely through Mrs. Kennett's efforts to personally recruit funders from the community. In 2018, a total of $100,000 was awarded to eight SF State nursing students, with some donors funding entire scholarships. The year was a milestone—the Kennett Program surpassed the $1 million mark for funds disbursed through 98 scholarships since 2005. Receiving the Kennett Scholarship can be life-changing for students. SF State alumnus Vincent Samuel was awarded the scholarship in 2009. "The Dr. William Kennett Memorial Nursing Scholarship Program helped me achieve my dream of becoming a health care professional. Thanks to the scholarship, I was able to concentrate on my studies without the financial stress of paying for my education. Today, I am proud to work as a nurse within the community where I studied."
When Lauren Anne Wilkenson received the scholarship in 2006, it allowed her to pay off a large student debt. "I felt invested in. The scholarships have a tremendous effect in acknowledging the impact that nursing can have on the community." Like several other scholarship recipients, Lauren donated back to the Kennett Program as soon as she was able. "They're paying it back and that is a wonderful thing, that they want to," says Mrs. Kennett. 
To lay a foundation for supporting future nurses, the Sequoia Hospital Foundation is building an endowment for the Kennett Program, so that the scholarships can be awarded in perpetuity. The endowment started with a generous gift of $100,000 from the Carl Gellert and Celia Berta Gellert Foundation. Along with other donors, Mrs. Kennett and many of her family members have contributed personal funds, and today the endowment is valued at over $663,000. While she is still raising money for the fund, Mrs. Kennett is happy there will be some permanence to it. "The money we've raised for the endowment fund so far ensures that we will have a minimum of two to three scholarships per year, in infinity, forever."
While her original intent was to find a way to honor her husband, Mrs. Kennett's work with the Sequoia Hospital Foundation has become a way for her to receive while giving. Mrs. Kennett gains much inspiration from the SF State nursing students, many of whom have told her of overcoming significant obstacles to earning their degrees. She is also touched by the financial contributions of donors, some of whom fund scholarships year after year. "The Kennett Program has given me the opportunity to fulfill myself while helping others. I am grateful for that gift."
For more information, contact:
Dafna Kapshud ( She/Her/Hers )
College of Health & Social Sciences
(415) 338-7112