GEORGE AND JUDY MARCUS HALL FOR THE LIBERAL AND CREATIVE ARTS
San Francisco State University's George and Judy Marcus Hall for the Liberal and Creative Arts or "Marcus Hall" is a state-of-the-art academic facility designed for innovative communication, collaboration and engagement. The building is named after the University's largest donors and alumni George Marcus and Judy Marcus. Designed by the renowned architecture firm Mark Cavagnero Associates (MCA), the 75,000 square foot building is the home of the Liberal & Creative Arts College's Broadcast and Electronic Communications Arts (BECA) department. Marcus Hall, on Tapia Dr. and Font Blvd. on the San Francisco State University main campus, also houses the college's dean's office, related support services, and several classrooms. Completed in early 2021, it is the first new academic building to be built on the SF State campus in 25 years, and the first academic building named after University graduates in its history. Marcus Hall was built with a combination of public and private funding.
Click through the slideshow below for photos of the exterior and interior of Marcus Hall, as well as the building's dedication ceremony.
Marcus Hall will prepare future generations to lead and evolve the media landscape. Designed by MCA as a flexible learning and production environment which can be adapted to changing technologies, the four-story facility asserts the presence of media arts at the University. Located on a highly trafficked area of the campus, the building offers passersby views into its ground floor television news studio, inviting the outside in. Marcus Hall is state of the art and a testament to the strength of the University's Liberal & Creative Arts College (LCA) and the BECA department.
The building balances both students' needs and the diverse needs of the college and the BECA department. It facilitates collaborative learning environments, interstitial spaces and places for students to work "alone together", providing for both social and quiet study. The concrete-steel hybrid construction supports acoustics and limits vibration, while carving out spaces for both large production studios and intimate labs. Glass lightens its sculptural form, inviting the campus in and creating a feeling of openness, while special windows also support acoustics.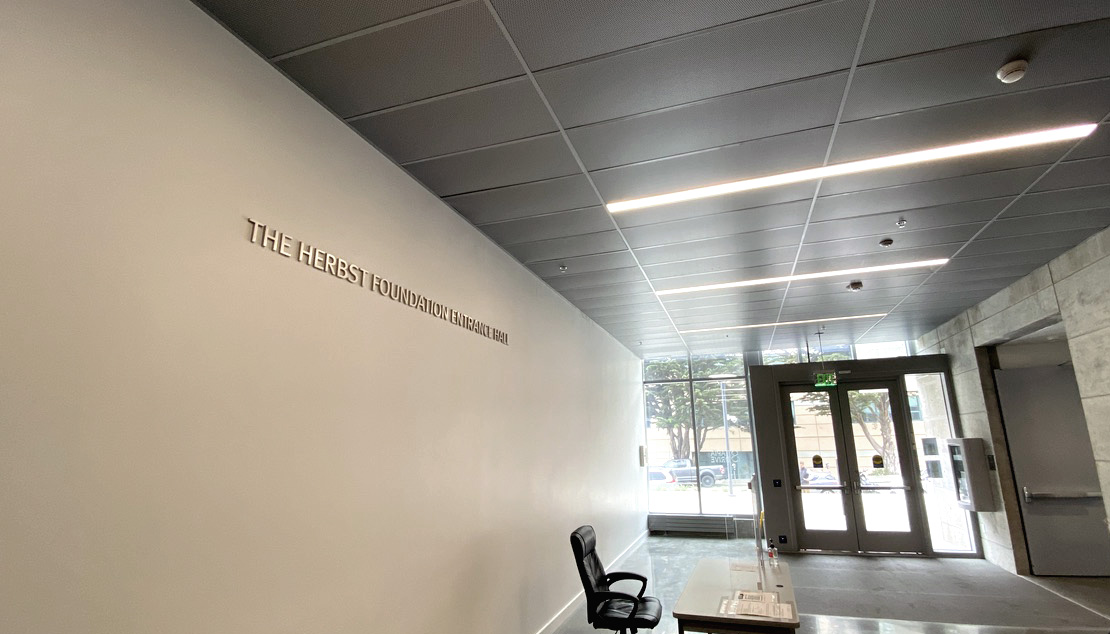 The Herbst Foundation Entrance Hall
San Francisco State University is honored to receive a major grant from The Herbst Foundation in support of Marcus Hall. This generous donation, from a well-respected foundation that has funded many high-profile cultural and educational institutions in San Francisco, is an important milestone of community support and recognition of the University and the College of Liberal & Creative Arts (LCA). As the portal to the campus and community, The Herbst Foundation Entrance Hall is a bright, welcoming space that informs visitors of activities in the building.

For more information, contact: